Santo Domingo, Dominican Republic

Scott-Free's blog
Steve & Chris
Sat 10 Mar 2012 15:32
Saturday 10th March 2012
Having sorted out the major boat issue, we felt it was time to slip into tourist mode, and set off for Santo Domingo, the country's capital city, with Jill and Tony from Nychea.  This involved a 20-minute walk to the main road where we flagged down a bus to the main bus station, and there we transferred to the Express bus to the capital.  This part of the journey took half an hour and cost 70 pesos each (about £1.10).  The heavens opened on the way, but by the time we got off the bus in the old part of the city, the sun was shining again and the pavements were wet and steamy.
Santo Domingo has a nice feel to it with none of the decay and neglect typical of Havana.  It was a bustling, colourful and friendly place and our first stop was a coffee shop where we sat in the street and people watched for a while.   Then with Tony as our 'guide' (he had the Lonely Planet Guide) we set off on a walking tour of the sights of the Zona Colonial, a UNESCO World Heritage site.
Old gate to the city which was once walled, in Parque Independencia.                    Calle El Conde, the main pedestrian street in the Zona Colonial.
Statue of Christopher Columbus outside Catedral Primada de America.                                  Plaza Espana.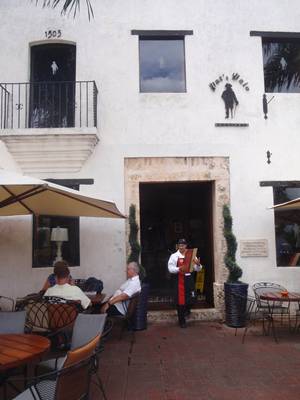 Lunch at Pat'e Palo in Plaza Espana from where we could see…                  Museo de las Casas Reales, which we looked at from the outside only!
View over Santo Domingo from Fortaleza Ozama.                                                           A Saint calling to the fisherman looks out over the port.
---