Birthday celebrations in Jost Van Dyke

Scott-Free's blog
Steve & Chris
Sat 23 Apr 2011 10:59
18:26.48N 64:45.08W
Saturday 23rd April 2011
Distance run: 23 nmiles
We checked in at Spanish Town and stayed a day in the anchorage there as we were both feeling a bit tired after the overnighter as well as fed up about the engine. We stayed in touch with Nimue and Let it Be by radio and they invited us to join them for their Easter celebrations on Jost van Dyke, one of the smaller BVI's just North West of Tortola.
So on Friday morning, Steve's 58th birthday, we set off for the twenty odd miles along the south coast of Tortola along the Sir Francis Drake Channel, up through a dogleg between rocks at the Western end of Tortola and north to White Bay on Jost van Dyke. Here you have to pass through a gap in the reef to anchor in very little space between mainly charter boats in about three metres of water. Having managed that, we invited the guys from Nimue, Let it Be and Highland Fling to join us for birthday bubbly, and they arrived bearing balloons, cards and cake!
Happy Birthday, Steve!
Just as we were finishing up the second bottle of bubbly, we became aware that we were swinging too close to the boat next door which was actually on a mooring buoy, so we needed to move. So with four skippers and mates on board, we raised the anchor and spent some time going round in circles whilst everyone gave advice on where to anchor, towing several dinghies behind us! Eventually we found a suitable spot, and then we all went ashore to the 'Soggy Dollar Bar' for drinks. The bar is so named because of the state of the money used to pay for the drinks by those who swim ashore, and it claims to be the home of the 'painkiller' cocktail.
Painkillers at the 'Soggy Dollar Bar'.
The following morning we moved round to the next bay, Great Harbour, and were joined by Martin and Liz on Caduceus. In the evening we went ashore to Foxy's for the barbecue. There was a mountain of very tasty food, music, drinks and good company – an excellent combination.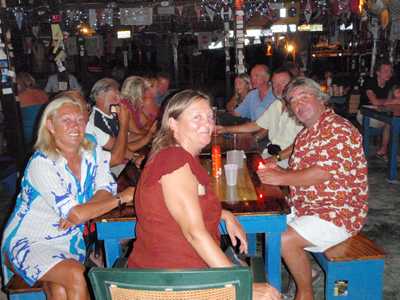 An excellent evening at Foxy's.
---