Manly

Scott-Free's blog
Steve & Chris
Sat 9 Jan 2016 23:00
Saturday 9th January 2016
Another beach today, this time on the north shore of Sydney harbour at Manly. We didn't need to cross the harbour, as we were already on the north side, but did need to cross Spit Bridge and it was fun to go over it after having gone under it several times. Well, we thought it would be fun, but hadn't reckoned on the traffic waiting to do the same thing!
When we joined the queue for the bridge it still wasn't in sight! But it wasn't too long before we were crossing it.
It was about half an hour's drive before we were sliding into a parking slot in the multi-storey car park just off the 'The Corso', the strip that joins Manly Cove with Manly beach. We strolled across to Manly Cove first, to see the wharf where the Manly Ferry docks, then along 'The Corso' to Manly Beach.
The beach was beginning to fill by mid-morning.
An imposing building opposite the beach. Looking back up 'The Corso' from the beach.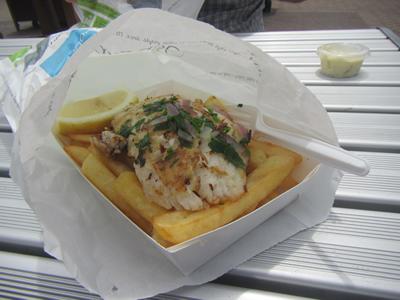 Waiting for our fish and chip lunch... ...grilled John Dory – very nice.
Don't really fancy a swim here!
On the way back, we drove out to North Head and looked out over the harbour.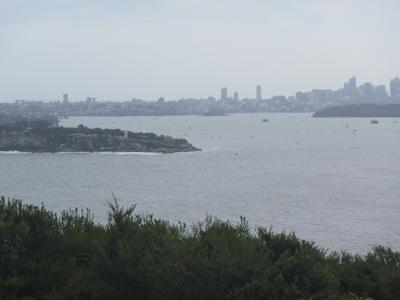 Looking out over the harbour from North Head.

---