Truck trip to Lenakel

Scott-Free's blog
Steve & Chris
Tue 6 Oct 2015 21:55
Tuesday 6th October 2015
On Sunday morning we had a visit from Customs and Immigration.  This was a surprise visit, as there is no Customs or Immigration office in Port Resolution as it is not a Port of Entry.  However, it appears that the officials regularly visit the bay in response to requests from boats that make their first landfall in Vanuatu here.  Such was the case on Sunday, and after they had completed the formalities with those boats, they visited us to complete Immigration formalities with us, as this had not been completed in Aneityum.  Timothy the Policeman is apparently not allowed to check people into the country, only boats.
After having our passports stamped and handing over 4800 vatu for the privilege, we then asked about checking out.  We could do it here and now on payment of 5000 vatu (£30) fee for checking out of a non-Port of Entry port, plus a further fee of 7500 vatu to cover their transport costs.  But, we argued, you are already here and must have already charged travel costs to the boats that requested you to come.  This, it seemed, was a minor detail that had no bearing on our formalities, and we would be required to pay.  What if we come by truck to Lenakel, the Port of Entry, and check out?  We would still have to pay the 5000 as the boat itself will be leaving from Port Resolution, but there would be no transport costs other than our own.  The Customs guy added, with a smug look, "And do you think your transport costs will be cheaper than ours?"  His smile faded though, when we explained that we intended to visit Lenakel anyway to see the island capital, so did not consider the transport costs part of the checking out costs.
Customs and Immigration officials being taken back to shore. They
do not have their own boat so the cruisers pick them up from a rocky
outcrop after they have scrambled down a steep hill!
We were not planning to leave any time soon as the weather looked unpleasant for days ahead, so we arranged with them that we would visit their offices in Lenakel today, yesterday apparently being a public holiday.  So it was that we were up at the crack of dawn to be ashore at 0630 for the 2-hour trip to the other side of the island.  Well, Steve went ashore – I went back to bed.  I had been up much of the night with a return of the trots, and apart from feeling washed-out and lethargic, did not dare to venture very far from a loo.  So a quick call to Rod & Mary had them stopping by to pick up Steve on their way past the boat.
I now hand the blog over to Steve –
On arrival at the "Yacht Club" we were met by Werry and Stanley and soon aboard the truck and off to Lenakel. Stanley offered to sit in the middle of the rear seat between Mary and myself – a kind offer as I guessed it must not be such a soft ride. We had gone about 200 metres when we stopped by a load of locals, just a normal chat we thought – no chance – they all piled into the back of the truck along with sacks of coconuts. Apparently they'd come from another village to collect coconuts as they had a shortage thanks to cyclone Pam. Pam had devastated all their fruit trees, imagine having no papaya, mango or bananas in your diet for a year when normally they are freely available. Thankfully their root crops (sweet potato, cassava, taro etc) had not suffered too badly. They are also fortunate to have fertile soil and a good climate, so salad crops could easily be grown again.
After about an hour we reached the ash plains and Werry stopped the truck for a Kodak moment. And what a moment it was, like a big black desert. Commonly known as their black "highway" the fastest stretch of "road" in Tanna! However, there are no road signs and it all looks pretty much the same – one needs to know the way! We were now around the back of the volcano and could still hear the bangs and see the smoke. The scenery then changed and the small rocky canyons had an amazing colour in the early morning light.
Looking up back of Mt Yasur                                                                                      Distance view of ash plains and shadow showing how early!
Smoking Mount Yasur.                                                                                                  Lovely colours.
A bit further along the truck stopped and disgorged the passengers and their coconuts. The village was not to be seen and was apparently 2K down a dirt track. A lot of work for their coconuts. It was good to see another village helping out a less fortunate one and the village working together – something we have seen a lot in Fiji and Vanuatu.
Unloading scores of coconuts.
As we got nearer to Lenakel, there was the odd stretch of concrete road. They are gradually laying more roads with the help of the Australian government. But as you can see in the photos, it is a slow labour intensive project as it is laid in small sections like we'd lay our garage drive!
The rock ballast was laid individually by hand.                                                    Alternate sections were completed.
Sign in Bislama, the local dialect of English.
For some reason I was a bit surprised to find Lenakel was like a town on one of the less well-off Caribbean islands. It was also much smaller than we thought it would be and would take no time to walk around it. The offices of Customs and Immigration were in a run-down wooden hut but had a very smart new truck outside again donated by the Australians. Once inside we were greeted by the custom guy we saw in Resolution Bay. Formalities were done and we were told to come back in an hour as our forms had been sent to Port Vila by email for authorisation.
The Customs office here in Lenakal was somewhat run-down for a Government building.
It was nowhere near as smart and well-maintained as the one in Aneityum.
Time to do a bit of shopping and stroll around the town then. Getting bread was easy though quite expensive and very heavy (turned out to be quite doughy). Getting eggs was more of a problem. We tried several stores before finding a shop with 3 dozen eggs! I bought a dozen eggs at 65 vatu per egg – about 40 pence each.  The high price was explained by the fact that many hens were lost in the cyclone, and so now they let most eggs hatch to get the numbers back to pre-cyclone levels!
Looking one way up the high street...                                                                     ...and back down the other.
The 'Namba 1 Shoping Centa'.                                                                                  Interesting signage over this store.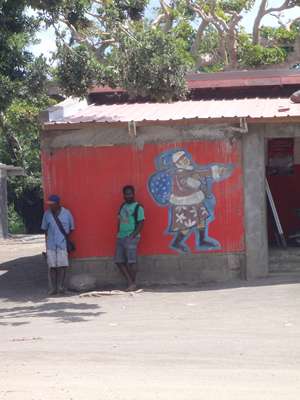 Even more interesting – Father Christmas!
Shopping done, we thought it would be interesting to see the not very good anchorage and dodgy quay we'd read about. It was not a particularly windy day but the anchorage looked untenable and the quay impossible! The local freighter was in but preferred to drive up on the beach between coral heads rather than risk his ship on the quay!! Another example of good intentions by a foreign (Japan this time) country but poorly executed... There was a brand new high tech weather station built on the quay, so I guess it is not entirely wasted.  We were glad we had not brought the boats around to this Port of Entry!
The ships shun the dangerous jetty in favour of the beach.                          New weather station powered by solar panels on the quayside.
Back at the customs office our permission from Port Vila was waiting for us. So now next door to see Immigration as he wasn't in earlier. Unfortunately, there was now a queue of a dozen locals getting visas to go fruit picking in Australia! Hey ho, we're on island time and no hurry, so sit down and join the queue and chat to the locals. Once we'd paid another 4800 Vatu our passports were stamped.
It was only 11 o'clock but we were all ravenous after our early start, so lunch it was.  We'd seen a cafe on our stroll and went back to the Ocean View Restaurant (probably the smartest looking building in Lenakel). There was no menu, one ate whatever had been prepared that day. For 300 Vatu (£1.80) we had a beef stew, rice and various root crops that hit the spot.  
The most attractive building in town – traditionally built.
Werry and Stanley were off carrying out their own chores, so Rod and I had time to spare.  What better way to pass it, than by trying out the local 'Tusker' beer.  No pub or bar, we bought bottles from a shop and stood under the shade of a tree taking in the 'bustle' of town.
Cheers!
Jobs done, Werry returned and picked us up for the trip back.  Again we stopped to pick up various people along the way – one was a local teacher and her family – and stopped to take in the views.
Breathtaking views across the ash plains.            
Beautiful views out over the coastline.                                                                   A much-appreciated ride for this family.
We arrived back at Port Resolution late afternoon, tired but pleased with the day's trip.  If the Yacht Club had been up and running, now would have been a good time to quench a well-earned thirst overlooking the bay.  Instead, we headed off back to the boats, where the sun was already well over the yard-arm...
---