Pittwater views

Scott-Free's blog
Steve & Chris
Wed 20 Apr 2016 21:02
Wednesday 20th April 2016
I have been sitting on deck today, thinking what a busy but at the same time peaceful place this little end of Pittwater is. Surrounded by boats of all shapes and sizes on buoys, forests of masts at the marinas that line the shores, and stinkpots large and small at the Royal Motor Yacht Club, I have become very aware of just how much the Aussies like boats. And this stretch of water is ideal, protected from wind by the surrounding land, and from the ocean swell and waves by the sand bar that crosses its entrance from Broken Bay.
This chart of Pittwater shows how protected it is. Land is yellow, water white, except the blue bits – that's the shallow water near the coast and at the entrance to the bay. Scotland Island is the round bit of land just below centre, and our mooring is near the brown anchor (up from the green Start button).
A forest of masts at the marinas. From S-F in the mooring field.
South towards the sandspit and beach.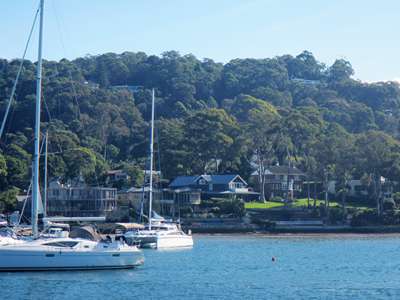 Marinas on the opposite shore. Nice houses with gardens running down to the water.
Surrounded by wooded hillsides.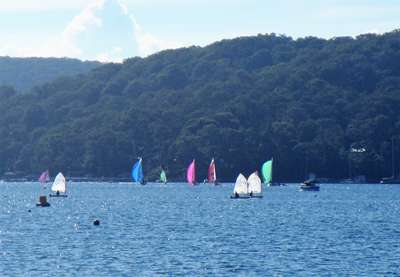 Dinghy racing over by Scotland Island. Sailing class over for the day.
Out for a solo sail. Fishing from a pedal kayak!
We will be leaving here soon, once the weather allows, and are happy to do so because it is time to move on. But we can see why it is so popular with the locals.
---