Christmas update

Scott-Free's blog
Steve & Chris
Sat 20 Dec 2008 08:53
Friday 19th December 2008
Since we last made an entry in the blog, Scott-Free has been having a well-earned rest,tied up on Juliet pontoon in Yacht Marine. She has not moved, unless you count the swinging and swaying she does when there's a southerly blow! You can follow the link above for more information and photos of the marina.
We,on the other hand, have been very busy, doing jobs on the boat and generally enjoying the social life of the liveaboards here.
A typical week for us would be as follows:
Monday - Quiz night in the workers' canteen, including dinner from the workers' menu which is basic but filling, and at 7YTL (about £3) per person, very good value.
Tuesday - Turkish lessons in the afternoon. Hamsi or fish and chips night in the restaurant.
Wednesday - 10-pin bowling in the afternoon. Pasta night in the restaurant.
Thursday - Market day in town. Turkish lessons in the afternoon. Film night in the restaurant annexe.
Friday- Coffee morning for Chris. Skippers' de-stress forum for Steve (and Chris if she were so inclined but she usually isn't!) Cruisers' menu in the restaurant (with reductions on the menu prices). Karaoke and dancing in the bar from 10 onwards (we avoid the karaoke but enjoy the dancing and a good old sing-along!) .
Saturday - a quiet day in the marina, but there is usually a group to be joined who are going out to one of the local restaurants for dinner. The restaurants lay on free transport there and back, and are cheaper than the normal menu prices in the marina restaurant, so these are well-attended!
Sunday - a day of rest. Every couple of weeks there is a trip out to a local restaurant for a typical English Sunday Lunch.
Happy hour in the bar is from 6-7.30 every evening and there are always familiar faces there to meet up and chat with, and often to join for dinner in the restaurant.
That's a typical week, though we don't always eat out midweek, and of course it doesn't include the visits we make to each other's boats for coffee, drinks, dinner etc. Or the special occasions like the end of Summer party, Halloween party, November party (couldn't think of a reason for this one so had it because it was November), Christmas party,New Year's Eve party etc etc. Also coach trips out to Mugla (the local big town, about 35 miles away) and other organised tours.
In early November we went on an organised tour to Cappodoccia, which is a region of Turkey in Central Anatolia which has the most amazing rock formations, many of which were lived in at one time. We left on Monday morning and got back late on Friday, and it was a wonderful trip. The scenery is breathtaking. On the way there we took the cable car up Tahtali mountain near Fethiye
On the top of Tahtali mountain Hey, wait for us!
In Cappodoccia we went on a hot air balloon ride over the Goreme Valley.
Our own shadow! Enjoying the ride.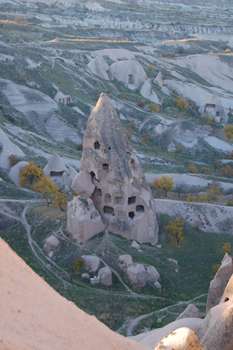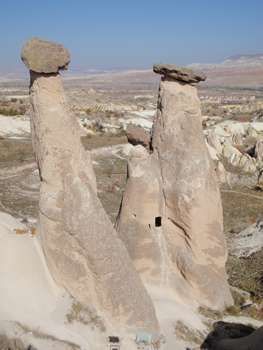 Goreme Valley- nicknamed 'Love Valley' -not sure why! The holes are windows! Fairy chimneys (with window!)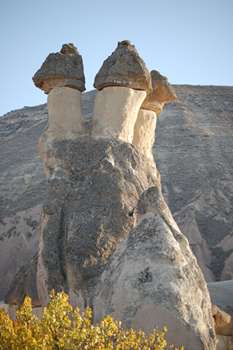 Layers of rock - why weren't these eroded too? Weird but beautiful More fairy chimneys
Never seen a Police station like this before! We drove back through the Turkish lakeland - stunning
There were only 8 people in the minibus and the driver and guide were with us all week. Both spoke very good English and were happy to teach us some basic Turkish expressions so now we can at least say 'Hello' and 'See you later'!
The motley crew! Nevruz the guide centre,and Ahmed the driver behind. A whirling dervish
We visited lots of places during the trip and learnt a great deal about Turkey and its people.

We went to the Mevlana museum and a whirling dervish ceremony which was...interesting! We were not allowed to take photos during the ceremony for religious reasons, but this dervish kindly stayed on at the end to give us a twirl for the camera!
The weather on the trip was much cooler than in Marmaris, because we travelled inland and up into the mountains. Here in Marmaris the weather was glorious throughout November, and in December it is still between 15 and 20 degrees by day, and although cooler at night we still only have a summer weight duvet on the bed. We have used the heating briefly once or twice when the wind was in the North, but otherwise it is very mild. The sea is still quite warm, as Chris discovered recently when taking an unintended dip off the front of the boat! Ever since, she has made sure she holds on with both hands when climbing off the bow!
Last week we went for a sail on a friend's boat (Scott-Free's engine is in bits and the sails are away at the loft being laundered and mended) over to Rhodes. The reason for this, other than a nice day out, was that our 90-day visas were due to run out and they have to be renewed by leaving and re-entering the country. So we went to Greece for the day!
We will be spending Christmas and New Year here in Marmaris, and although the original plan was to have a quiet Christmas, that may not now be the case! There is a Christmas Eve party and on Christmas Day we will be joining a group of about 25 liveaboards at a local restaurant for Christmas Dinner,complete with log fire and Secret Santa pressies. Over the Christmas and New Year period we will be logged on to Skype to see and speak to the family, and we would love to hear from friends who have Skype on their PC's.
We will just have time to get over all the festivities before the boat is hauled out of the water on 2nd January. She is to have her rigging replaced for the second time in a year (long story involving sub-standard cable) and her teak deck will also be replaced. She will be out of the water for a couple of months and because of the extent of the work being carried out,we will be moving off her and into an apartment in Marmaris from the 2nd Jan. And just to make life interesting we will also need to get packed for our trip home on the 5th Jan! So much for a quiet life!
We will be back in the UK from 5-19th January, when we hope to see as many friends as possible. We will be based with Kerrie and Lee in Crawley, but hope to give them a break from us some of the time by taking up offers of overnight accommodation from friends (ok, we admit that is a rather unsubtle hint!) Steve will be attending the LSP Skippers' supper on the 9th and we will both be at the DSP reunion on the 10th and hopefully staying over on Lord Amory so that we can attend the LBS on the 11th. We'll also be at the Med supper at CA House,on the 14th, so we hope to catch up with lots of friends along the way.
When we return on the 19th to the apartment in Marmaris, we will be travelling to and from the marina to check on work on the boat and to do some jobs on her ourselves (e.g. servicing winches, scrubbing and anti-fouling her bottom etc.) as well as continuing to see the friends we have made here.
We wish you all a wonderful Christmas and New Year and a very happy and successful 2009. May it bring you everything you hope for.
---