The boys' last day

Scott-Free's blog
Steve & Chris
Sun 19 Oct 2008 17:32
Started late as we all had a lie-in, then Steve and the boys went over to the bar to watch the Grand Prix. "Not the most exciting race, but a good result as Hamilton won" was the verdict upon their return.
We then went to the swimming pool for a few hours - and Tom even got in the water! Here the competitive spirit resumed as the three 'boys' raced the length of the pool. Steve was given a headstart, and put up a good fight, but still came in last!
Tom powers ahead as James creeps up on Steve The Rawlinson 'boys'
Lunch was a typically English affair of beer and chips by the pool, and was followed by some lounging around on sunbeds catching some rays before heading back to the damp and cold of England.
Later we caught the Dolmus into Marmaris. This is an experience in itself, and this particular driver obviously either had a death wish or was blissfully unaware of the proximity of the bus tyres to the cliff edge. We made it safely to town, however, and spent a few hours wandering around and taking in the sights - one of the viewpoints was from a bar on the top of someone's house!
The Yacht Marina, seen in the distance from Marmaris town
Then it was time for our last meal together and we stopped at a restaurant we knew on the way back to the boat. James and Steve ordered Ottoman kebabs, and when the first one came we thought it was for them both - then a second arrived! They are served in a large metal dish over a flame, and each was enough for two people, although neither Steve nor James left very much!
Tom discovered that the 'green bean' in the salad was, in fact, a chilli!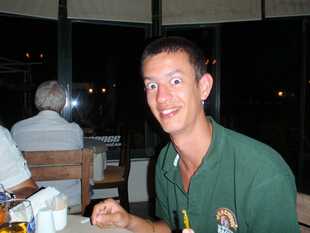 Then back on the Dolmus again and back to the boat for coffee and nightcaps.
---