Airlie Beach

Scott-Free's blog
Steve & Chris
Tue 30 May 2017 21:56
20:16.022S 148:42.533E
Tuesday 30th May 2017
Distance run: 17 nm
Another short hop today, this time over to Abell Point Marina at Airlie Beach. This would be our first stop on the mainland since we left Mooloolaba (Gary's Anchorage and Kingfisher Bay being on Fraser Island and technically therefore not on the mainland!) It was also our first opportunity to do some shopping and re-stock the larder with fresh items like bread, fruit and veg. We shared our last piece of fruit at the top of Whitsunday Peak, and were down to our last pack of part-baked rolls, so some stocking up was definitely due. We also needed to offload three weeks' worth of rubbish and do some laundry, and a good, long shower would be very welcome!
We set off from Sawmill Bay after breakfast, unfurled the sails and headed across Whitsunday Channel, around North Molle Island and into Pioneer Bay. We called up the marina who were expecting us, and asked if there would be a space on the fuel dock. We would need to wait half an hour, they said, so we gilled around outside their entrance until the appointed time, and then headed inside the breakwaters to the fuel dock where Sam was waiting to take our lines.
We topped up the fuel tank and jerry cans and then made our way to 'O' pontoon where we slipped into berth 23 and very soon were safely tied up alongside. We strolled along the very long pontoon and found the marina's South office where we checked in, booked a courtesy car for a shopping trip next day and collected the parcel they have been holding for us containing an external cellphone aerial for our wifi router. This should give us better access to cellphone signals and therefore internet access both off the coast of Australia and in SE Asia. It seems our Wirie aerial which thus far has given us excellent service in accessing weak wifi signals is now defunct, as in this part of the world the internet is cellphone-based.
The plan now is to spend a few days here re-provisioning, doing jobs and getting the thrust bearing on the prop shaft looked at to find out why it is leaking oil. We are pretty fed up about this because a new prop shaft was fitted by Watson Marine in Boatworks, but the thrust bearing has been leaking all the way up the coast. Topsail, our insurers do not cover us for failed repair jobs, so now we will have to pay to get it looked at. Very annoying.
We will also wait out a weather system which is due to move through over the next few days, so right now we do not know when we will be on the move again. Our next main stop will be Cairns, about 260 nmiles up the coast. Australia Post's tracking system tells us that our Passports and Indonesian visas have been delivered to the Cairns Royal Yacht Squadron, where they will be held until we arrive to collect them. We will also collect our Sail 2 Indonesia Rally packs there before continuing up the coast to Thursday Island where we will check out of Australia in mid-July. For the time being, though, getting our jobs sorted is our priority.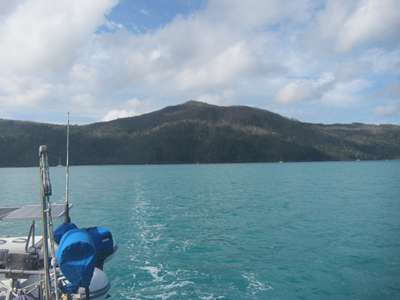 Looking back at Whitsunday Peak as we leave Cid Harbour.
---