Back in Gib

Scott-Free's blog
Steve & Chris
Tue 31 Aug 2010 21:25
After a very tedious passage consisting of 5 hours of sailing and 20 hours of motoring, all in big, rolly seas and much of it punching an adverse tide of up to 3 and a half knots, we eventually sighted the rock. Well, actually, in the poor visibility we sighted a cloud which we assumed had the rock under it, and as we got closer our suspicions were confirmed. Having had no wind at all for the best part of the journey, a stiff breeze sprang up as we rounded Europa point and we sailed into the bay powered only by the main. We heard ourselves being called on the VHF by Rob on Serafina, enquiring whether we would arrive by teatime as they had some blueberry muffins awaiting us. Needless to say this speeded up our arrival and within no time at all we were safely tied up in Queensway Quay and tucking into the said muffins.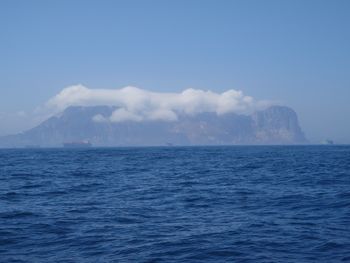 Is that the rock hiding beneath that cloud? Yep - it certainly is!
Rounding Europa Point and leaving the Med
We have today been in touch with various people in an effort to resolve the autopilot problem, and are now awaiting the delivery of a new drive from the UK. The progress of the Satphone package is slow,with the last reported position being Arnhem. According to the local depot, it will be in Madrid tomorrow and Seville on Thursday. I wonder what chance there is that it will be here by Friday? We can only cross our fingers and wait...
---