Return to Deshaies, Guadeloupe

Scott-Free's blog
Steve & Chris
Sat 5 May 2012 14:06
16:18.438N 61:47.842W
Saturday 5th May 2012
Distance run: 112 nmiles
Slipped the lines from the mooring buoy at 0700 Friday and motored for the next 5 hours in little wind, through the gap between Statia and St Kitts. We had thought we might stop at these smaller islands on the way down, but the weather is very unsettled and squally, with wind coming from unusual directions which make the anchorages here rather too exposed. So we are settling for sailing by them instead.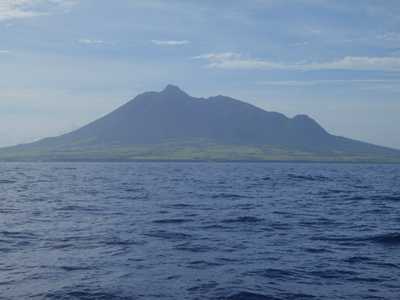 The closest we will get to St Christopher (St Kitts)
Eventually the wind picked up and we unfurled the yankee and were pleased to be able to make a good course towards Guadeloupe - for 2 hours! Then the wind changed, so we tacked, but that set us on a course north of east, so we tacked again and that set us on a course west of south! What the heck?! We seemed to be tacking through 180 degrees! In the end we decided we must have a strong current pushing us in a north-westerly direction and as our speed through the water was fairly slow, we had a lot of leeway. So, rather than sail back and forth across the same stretch of water for hours on end, we furled the yankee away and hoisted the iron topsail, yet again.
Thereafter the wind was light and fickle and interspersed with gusts up to 20 knots coming from any direction as squalls passed by. We used the radar overlaid on the chartplotter to track the worst of the squalls and when desirable steered away from them. Wimps we may be, but repeatedly being dumped on by gallons of rain just as you are drying out is not our idea of fun!
We tried sailing a few times in the night as and when there was wind and it was favourable, but it never seemed to last for long. We arrived in Deshaies on the north west tip of Guadeloupe around 0700 this morning in conditions that were very different from the last time we were here. Then, our engine failed as we were motoring into the bay in 30-knot headwinds. This morning there was hardly a breath of wind, and we were safely anchored before anyone other than the fishermen was awake.
We had a tidy up, hung some things out to dry, had a nap, a bite of breakfast, and remembered why we like it here. Without the wind gusting down the hillsides it is even nicer, and has a sleepy village feel to it. Steve went ashore to check in (and out - we are only staying a day) and to buy some bread and find out where to get diesel. It seems we can't buy it at the fishermen's dock as it's duty free for them only there, so he took two jerry cans to the petrol station along the road instead. The forecast is for light and variable winds for days yet so we need to be topped up. The normal trade winds are being stalled out in the Atlantic which partly explains the disturbed wind and weather we have at the moment.
Habibi is anchored not far from us, and Marco and Rahel came over to say 'Hi' during the day. This afternoon Rigel appeared in the anchorage, and Steve went over to say 'Hi' to Doug who had sailed down from Antigua with family on board.
The plan is for an early night and an early start tomorrow for the 50 nmiles or so to Prince Rupert's Bay in Dominica.sc
---