Passage to Wakatobi Day 3 - Arrival

Scott-Free's blog
Steve & Chris
Wed 9 Aug 2017 12:47
05:28.777S 123:45.955E
Wednesday 9th August 2017
Distance run day 3: 84 nm
Total passage distance: 381 nm
The lighter winds we expected never arrived, making slowing down quite difficult. In the end we spent the last night under a reefed mainsail alone, drifting along at 3-4 knots, along with five other boats all heading for the same island. It was a very comfortable ride though, and sleeping on our off watches was easy.
We arrived at the approach to the island at first light, and continued to bimble along slowly to allow the sun time to wake up properly and to get a bit higher in the sky. To get into the lagoon between Hoga Island and its much bigger neighbour Kaledupa we needed to enter through a pass in the reef, and we needed to be able to see the lighter colours that showed us the locations of the reefs on either side.
As we approached Hoga Island, the moon slowly dropped in a sky lightened by the rising sun.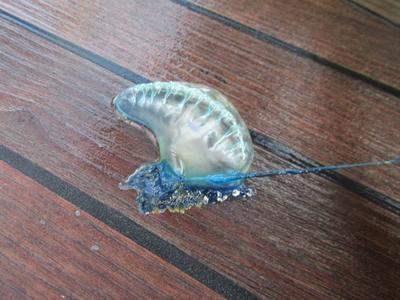 With the daylight we were able to see a different kind of hitch-hiker on deck– a jellyfish. One of the locals called it a "bluebottle".
We made our entry without problem just before 0900, and soon after dropped the anchor in 20 metres. Within minutes we were visited by locals in their wooden canoes selling fish, or cake, and then came a more modern motorboat full of men in uniforms. It appears that we have to pay a fee to be in the Wakatobi Marine Reserve, so we stumped up 150,000 rupiah each and another 100,000 for the boat. Apparently we must keep the tickets safe and show them wherever else we go in the Reserve so that we are not charged again. The chap was so keen to prove his legitimacy that he encouraged us to take photos of his ticket book and ID tag. So we did!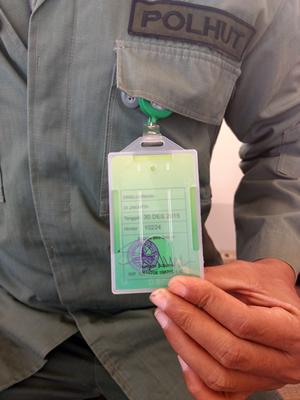 Welcome to Wakatobi Marine Park. That'll be 400,000 rupiah please. All done with a smile!
We were encouraged to take a photo of his ticket book.
A whole boatload of people just to collect Marine Park fees!
Having paid our dues and tidied the decks, it was time for a cuppa and a bowl of soggies before catching up on a few zeds.
---