Nisiros

Scott-Free's blog
Steve & Chris
Thu 8 Oct 2009 07:36
36:37.12N 27:10.25E
Thursday 8th October 2009
A good night's sleep, despite the wind. Bacon butties for breakfast then up with the anchor, 2 reefs in the main and three quarter yankee out, and off we set. More North Westerly 5-6 and big seas, but less choppy than yesterday and another fast passage.
A nice surprise on arriving at Palion in Nisiros - from the details in the pilot we expected to have trouble finding a spot in the harbour, but not so. With the help of EU money (surprise, surprise!) the harbour has been developed and there are now two long quay walls to tie up to, with electricity and water. No charge for mooring, 5 euros a day for electricity.
We had already planned to stay a day to explore the island, so next morning we hired a car (25 euros a day 10 euros for petrol) from Mike at Eagles' Nest, a very pleasant and helpful Greek American. He laid out the map on the desk and circled the places to visit, telling us where the road is being widened and where we need to take care of buses passing.
We had an extremely enjoyable day. Nisiros is a lovely little island with a steaming volcano at its heart. We went first to the hilltop village of Emborios which has just a handful of residents left and where most of the buildings are derelict. Then we visited the volcano where you can feel the heat, see the steam rising from the fumaroles, see and smell the sulphur. We saw the big caldera, Stefanos, and then climbed a fairly steep rocky path to see the two smaller ones. Fascinating.
We visited several other villages on the island, and enjoyed a simple but delicious lunch on a hillside terrace in Nikia after visiting the Volcano museum there which was well-presented and very informative.
We decided we had enjoyed Nisiros more than Santorini, where the best bit had been over with once we had sailed through the caldera. On Nisiros, we felt we had really seen the island and the volcano, and would really recommend a visit.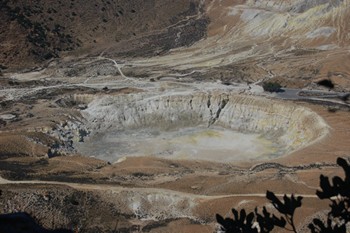 ---