Bora Bora & battery problems!

Scott-Free's blog
Steve & Chris
Mon 26 Aug 2013 11:17
16:29.308S 151:45.655W
Monday 26th August 2013
Distance run: 29 nmiles
We left Ile Taha'a through Passe Pai Pai, and whilst not exactly flat water, it was an easy pass. We had a lovely sail in 12-16 knots of wind over the port quarter all the way from Pai Pai to Passe Teavanui, through which we entered the lagoon surrounding the island of Bora Bora. Well, with a gybe to put the wind over the starboard quarter for the last few miles up the west coast.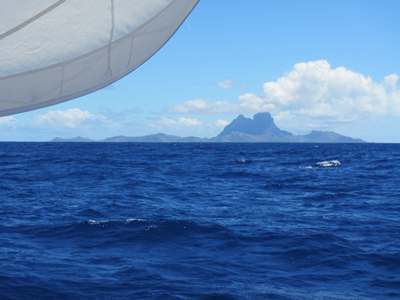 Approaching the south-west corner of Bora Bora... the cloud lifted from its peaks as we rounded the corner.
Labelled by the French Polynesian tourist industry as the 'Pearl of the Pacific', the island has central peaks not unlike those in the Marquesas, but unlike those islands it is surrounded by a barrier reef which means its waters are calm and for the most part shallow. We picked up a buoy outside the Bora Bora Yacht Club – despite having mainly shallow water, around the main town it's too deep for anchoring so they have mooring balls. The deal is that you get the first night free if you eat at the Yacht Club, so what better excuse does one need?
Bora Bora Yacht Club in the shelter of Mounts Pahia & Otemanu
Next morning we walked into the main town of Vaitape (about 30 minutes from here) and enquired at the Gendarmerie if we needed to get a new stamp in our passports after three months (yes, it's difficult to believe we have actually been in French Polynesia that long!) The very pleasant (not to mention young and handsome) gendarme informed us that as we are EU citizens the three month limit on stays does not apply to us and we need do nothing until we plan to leave, when they will simply stamp us out.
Happy that we did not need to rush around to prepare for the next long passage by the end of the week, we decided to spend a week or so on the island, and to go round to the east side and anchor behind the motus for some beautiful scenery and relaxation. We stopped off at the Super U supermarket on the way back to the boat to stock up on fresh provisions and were all set to move next day.
As is so often the case, this plan did not quite come to fruition, as it became apparent that our bank of domestic batteries was really in trouble. We'd had problems with them holding a charge on the way to Tahiti, but they seemed to recover with some good long charging in Pape'ete. They seemed fine once disconnected from shore power and were holding their charge in Mo'orea and Ra'iatea. We became a little suspicious of them in Taha'a, but put it down to lack of input by the wind generator and solar panels in cloudy, windless weather.
But when we went to bed Saturday night they were fully charged and when we got up the next morning they were down to 11.4v. They were definitely not well. Steve did a variety of checks on the electrical systems on the boat to see if we had a short circuit somewhere that could be draining them, but could find no faults. Eric from Sirena of Oare came to have a look and helped Steve run through a few more checks before eventually they pronounced three of the four batteries dead.
Three of these little blighters are NBG. Dead after nine months. Nice going VETUS.
Now we were kicking ourselves because sourcing new ones on this island was not going to be easy. The one and only 'chandlery' only just deserved the name with very limited stock. Fortunately we have reasonable wifi here, so we searched Noonsite for battery suppliers in FP and also sent an email to our agent Laurent in Pape'ete to see if he could help. Our Noonsite search came up with a company called PSA (Pacific Sud Accumulateur) in Pape'ete, and Steve gave them a ring. Vetea could not be more helpful – he managed to understand Steve's English (something even Brits have a problem with!), emailed us details of suitable batteries, and even took our photo of our battery compartment off to his warehouse to check if our wiring would fit the terminal positions on our chosen model. He emailed us the invoice for payment at the local bank. All this in the space of one morning.
We took his proforma invoice to the Bank and offered our debit card which we can usually use to withdraw money above the ATM limit. The lady shook her head. Can't take the card, must have cash. Use ATM outside then bring it in to pay. (Cash needed is 99,365 CPF, by the way.) Why can't you just use the card, we asked. Need authorisation and telephone not working for the past week. So outside we go, and five withdrawals on several cards later we are trying not to think of the withdrawal charges and have enough cash to pay.
We ask the cashier to fax a copy of the receipt to Vetea as confirmation of payment as he has suggested, but the fax machine is also out of order (of course!) We explain we need to let Vetea know we have made payment so that he can ship the batteries and the cashier shrugs his shoulders. OK then, that's helpful. Steve then suggests phoning Vetea with our mobile, and at last we've got him – he can think of no way out of this one, and so he speaks to Vetea and confirms payment.
He passes the phone back to Steve and Vetea confirms that the batteries will be on the supply ship from Tahiti tomorrow and will arrive here on Wednesday morning. Wonderful service from PSA and a huge relief for us.
We decided to pay the local tax on the batteries as this will probably be less than the cost of getting them exempt, especially as Vetea gave us a 5% discount on them. So we now have our fingers crossed that the batteries turn up as expected on Wednesday morning. As luck would have it, the commercial dock is just around the corner from our mooring and the supply ship will have to pass us to get to it. So when we see it arrive, we can jump in the dinghy and go round the corner to collect them. That's the theory anyway...
Now that's sorted and there's nothing to be done until Wednesday, we plan to spend the day ashore tomorrow, exploring the island by bike. I'm insisting on using the Brompton because the hire bikes have no brakes on the handlebars, you have to backpedal, and we all know how that can end in tears, or, indeed, rose bushes.....
---