Venturing out from Prickly Bay with Des

Scott-Free's blog
Steve & Chris
Sun 20 May 2012 01:18
Sunday 20th May 2012
The Prickly Bay anchorage is rather lumpy and sometimes rolly, and we ended up quite near another boat, so yesterday morning we picked up the anchor and moved to another spot with plenty of space and a little less roll. Then we went ashore to de Big Fish, a restaurant where they have satellite TV and where the owner had kindly offered to put the telly on an hour before they were due to open so that Steve could watch the West Ham match. I settled myself down with a book and the laptop and passed the time quite happily until the final whistle, by which time they were serving lunch and it seemed churlish not to stay to eat. We chatted to some cruisers from Norway who were laying up their boat next door in Spice Island Marine and they gave us some information about other bays and marinas on the south coast.
Back at the boat it was still lumpy, and we had a short siesta as we were both tired after a rolly night, then showered and changed and headed off back to dry land for happy hour at de Big Fish. There was live music provided by a guy with guitar, and he had a very good voice. We enjoyed a very pleasant evening with the Norwegian couple we met earlier and their Swedish friends, listening to the singer's very wide repertoire, and made it back to the boat in time for bed.
This morning we phoned Des, a Grenadian friend from England who has retired back here, and he drove over to meet up. Unfortunately his wife Wilma is back in England at the moment so we will probably not get to see her on this visit. It was lovely to see Des and catch up on news, and he kindly drove us to look at a couple of marinas so that we could see if they would be suitable to spend a few days in before James arrives on Thursday, and also whether we might want to stay in one for a bit once he has gone home. We all decided that the first one in Clarke's Court Bay wasn't very appealing and then went to look at Port Louis in St George's, which we all agreed was much more so!
Des then took us to 'The Aquarium' restaurant, which is in a lovely location on a beach overlooking St George's Bay and where we enjoyed the Sunday barbecue.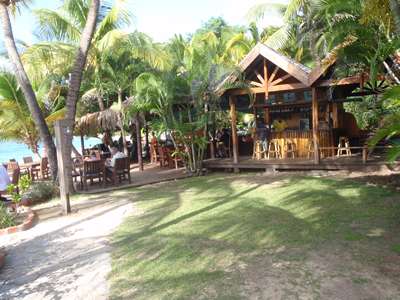 The bar and band at 'The Aquarium' Restaurant are right on this lovely beach with St George's across the bay.
Steve & Des catching up on news and Steve getting in a mess with his barbecued ribs!
When Des took us home he took us to the wrong side of Prickly Bay by mistake, but it turned out to be useful because we had a chance to look at Prickly Bay Marina (didn't fancy that one either!) and then Des drove up to the top of Prickly Point, the big headland we are anchored in the lee of. It was quite a view which showed a worrying number of unmarked reefs!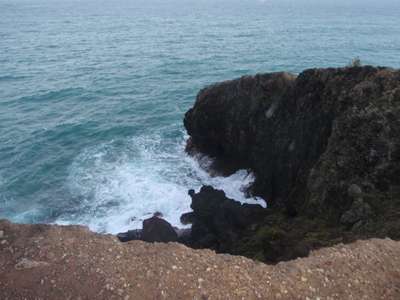 Looking down from the top of Prickly Point This 'lighthouse' is actually someone's house!
---