ships that pass in the night

Scott-Free's blog
Steve & Chris
Fri 31 Dec 2010 14:39
15:22.765N 47:25.683W
Friday 31st December 2010
Distance run in 24 hours: 131
Total distance run: 1329
Distance left: 720
Yesterday's promise of a nice bright, sunny and calm day was slightly spoilt by the appearance of squally clouds in the afternoon and we were rained on good and proper for the first time this trip. An enormous cloud positioned itself right above us and then deposited untold gallons of water at the same time as blowing gusts at us from whichever direction it fancied. Steve took the helm from George (autohelm) as he is a little sluggish with his adjustments for this amount of wind shift. Wearing only his boxer shorts he decided wet weather gear was not necessary, and at one stage was considering whether to get out the Head & Shoulders and take advantage of the free shower!
By early evening it had all blown through and the skies were again clear and blue, and we sailed on into the night with following winds and seas, making good time. At around 0400, whilst doing the usual scan of the horizon, I spotted a light ahead and off to starboard. Another vessel! How exciting! Nothing on the AIS so not a big vessel. It eventually made its way towards us and I was surprised to see the red light of a tricolour. From this perspective I was expecting green. It turned out to be a sailing vessel going in the opposite direction to us, tacking into the wind! Not only was it unusual to see another vessel, but to be crossing this ocean against prevailing wind, current and swells seems to me more than a little crazy!! I might have thought I was seeing things but Sarah called up on the VHF shortly afterwards to ask if she was going mad or could she see a yacht sailing past her in the opposite direction!
When light dawned this morning Serafina had crept up on us in the night and were asking permission to come close for a photo opportunity. So out came the cameras and despite the rather big swell many shots were snapped before they bore away and off on their own heading.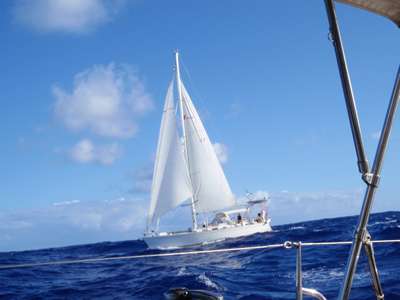 Serafina passing for a photo op.
We are now making good progress in more or less the right direction, in a somewhat rolly sea. And as I write another vessel - this time a tanker - is passing a mile off our starboard side. Just like buses - none for ages then two at once!
---