Feeding the fish

Scott-Free's blog
Steve & Chris
Tue 4 Aug 2015 18:15
Tuesday 4th August 2015
This morning dawned sunny and calm with just a gentle breeze – the first nice day for a while – so we collected together our snorkelling gear and set off in the dinghy for a sand spit not far from the anchorage, where we had been told there were lots of fish to be seen, especially if you take some bread to feed them. We were not disappointed; there were hundreds of fish hungry for our bread, and even some that nibbled at us!
The fish were after the bread before Steve could get it out of the bag!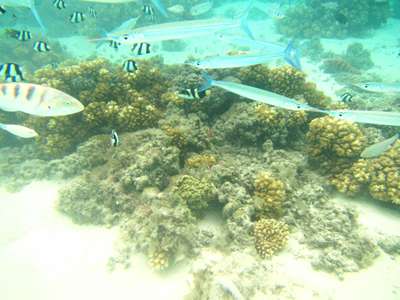 For once our underwater camera worked!
---