Viani Bay

Scott-Free's blog
Steve & Chris
Tue 23 Jun 2015 19:45
16:45.061S 179:53.973E
Tuesday 23rd June 2015
Distance run: 47 nmiles
Up before the sun this morning, with the anchor up and motoring towards Point Passage shortly after 0600. As forecast there was nil wind and flat seas and we settled into a day of motoring – not our favourite method of propulsion, but acceptable when the alternative would be a beat into 25 knot winds. The calm conditions allowed for breakfast under way and an opportunity to enjoy the Fijian coastline.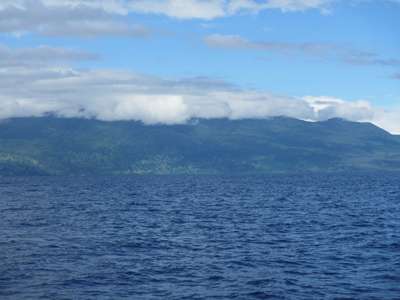 The south east coast of Vanua Levu The west coast of Taveuni, the 'Garden Isle'.
We pulled out the main and it occasionally gave us a lift and a bit of extra speed when it caught the odd puff of wind, but mostly it lolled around uselessly until it was furled away just before we entered the pass through the reef. There were very few waves breaking over the reef in the calm seas, making the gap impossible to identify by sight, so we were glad we had Curly's waypoints to guide us in.
Entering the pass in the reef with the sun over one's shoulder...not.
We were also glad of the waypoints because we discovered as we approached the pass that there is a fault in the software on our chart plotter and we cannot zoom in and get the detailed chart for this area. The images below show the difference, taken once we were safely anchored. The red crosses are the waypoints. We will be having a word with Navionics...
Viani Bay at 6nmile scale – fine. Viani Bay at 3nmiles – no detail, looks like a kid's drawing!
We entered a glassy smooth Viani Bay and dropped the anchor in the northeast corner behind a small island. The first attempt was unsuccessful as the bottom had a lot of dead coral which made it difficult for the anchor to set, but all went well the second time and we were soon enjoying an anchoring beer as we watched the sun set over the hills.
Glassy sea in Viani Bay.
S-F at anchor in Viani Bay.
---