Paddling around

Scott-Free's blog
Steve & Chris
Sun 15 May 2011 16:59
Sunday 15th May 2011
Having spent some time poring over the charts and pilot books and the weather forecast, we came to the conclusion that we should spend another day here before setting off for the Abacos in the north of the Bahamas. The passage planning involves factoring in both departure and arrival times to take account of light to see reefs by, wind to sail by and swell and wind direction when we are likely to go through the 'cuts' into the sea of Abaco. Unless the forecast changes in the meantime, we plan to set off sometime tomorrow for the 200 mile trip to Marsh Harbour on the island of Great Abaco. This is the usual stopping off point for many cruisers making their way north, where we will take on fuel and provisions and wait for a weather window to set off for the 4-500 miles to the US east coast. It is wise to wait for a favourable forecast as the passage involves crossing the gulf stream which can run at 4 knots to the North, and any wind with north in it can kick up very unpleasant seas.
We took the ribs up the river yesterday afternoon and spent a very enjoyable couple of hours paddling through the mangroves, watching rays and turtles in the crystal clear water.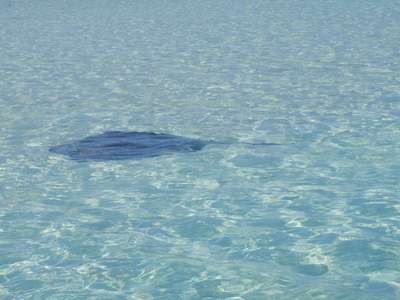 Paddling up the river. A ray glides by.
Scott-Free waiting patiently for us to return from our jaunt up the rver.
---