Sitea, Crete -> Panormittis (Monastery Bay), Symi

Wanderingdragon
Stephen & Anne
Sat 3 Jun 2017 06:14
36.33.020N 27.50.790E
One of our tasks on the Friday was to top up the coolant and check the engine cooling system for leaks. We were a little concerned about the level dropping. No leaks were found, so the most obvious theory was we had air bubbles in the system from when we changed the coolant over the winter. With that in mind we decided to carry on with our trip, but keeping a close eye on the coolant.
We checked the weather once again and decided we would do an overnight trip to Symi. The weather looked like it was going to get a bit too windy. As it turned out the forecast was wrong and we could have island hopped up.
On Sat 3rd June 9 am we set off to Symi. We started off checking the coolant level very regularly. Luckily it looked OK, must just have been air in the system.
There was very little wind, but some swell beam on, so a bit rolly. Anne had a lovely night shift with the moon out and Jupiter shining brightly next to the moon. Just before the end of her shift the moon went down, and it became very dark. Poor Stephen got a very dark shift.
We arrived in Monastery Bay, Symi about 8 am. The bay appeared fairly busy, we eventually found a spot to anchor. When we arrived the Monks were in Church and relaying their chanting rather loudly through a PA system. Three hours later they finished. We were a bit concerned about how often they would be chanting. Our next concern was the large ferry entering the bay. We knew he turned before he backed up to the dock. Luckily he turned away from us.
The ferry – it always feels much closer than the photo depicts.
After a bit of a rest we decided to lower Dragonette and explore ashore. Unfortunately the bubble machine (our outboard motor) wouldn't start.
Monday 5th June
The monks had a quiet chant this morning for about an hour, we think they must have overdone it the day before.
We spent the day taking apart bubble machines carburetor. Unfortunately that didn't fix the problem.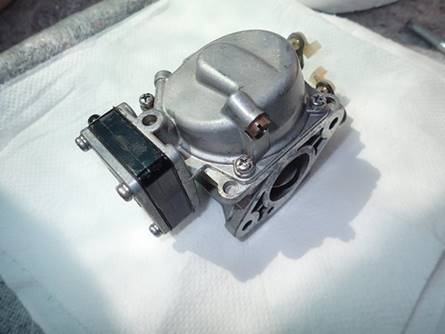 Bubble Machines Carburetor
We rowed ashore for a bit of a wander round.
Wandering Dragon as the Monks saw her.
The monastery as we saw it
The good news was that the coolant level on the main engine was steady, it must have been air in the system.
---