Vlikho Bay, Levkas -> Sivota, Levkas: Marina di Ragusa Reunion

Wanderingdragon
Stephen & Anne
Sun 4 Aug 2013 12:53
38.37.442N 20.40.919E
As much as we like Nidri and Vlikho we decided we ought to go and explore some more of the Ionian. We left the bay about 9am – it was already very hot and there was no breeze at all. We were quite glad to start motoring and getting some air movement through the boat. We aimed for Sivota and had been advised to arrive around midday to ensure we got a space on the Taverna pontoon. We arrived at midday – only to find the boats from the night before were still there. Slowly they started leaving and we got called into a space.
We met Melanie and Carl (THALA), who pointed out Tim (OLIVE BRANCH) was anchored in the bay and Lis and Flemming (SUMMERTIME) were also moored up on the pontoon. We decided to get together for dinner in the tavern that evening.
We had a great time at our Marina di Ragusa reunion J
View from our rooftop table clockwise from bottom left Lis, Flemming, Anne, Stephen, Melanie, Carl and Tim.
Sivota in the evening
Irish coffees on SUMMERTIME – there was rather a large portion of Irish in them – but they did put us to sleep quite well.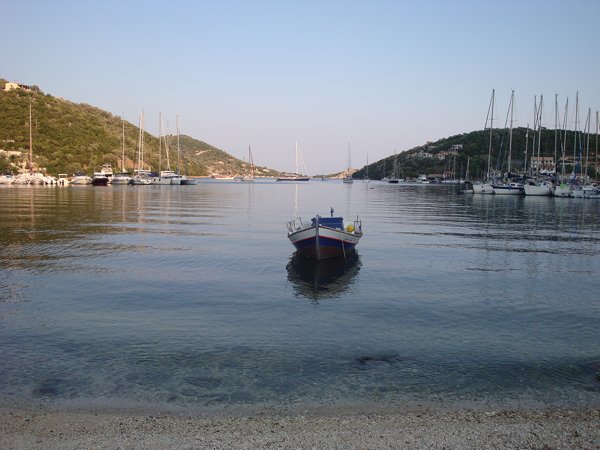 A picture of the bay – we were moored on the pontoon to the right
---