Marina di Ragusa: The Buffalo Farm

Wanderingdragon
Stephen & Anne
Tue 12 Mar 2013 14:35
36.46.84N 14.32.74E
One of the places we had wanted to visit for a while was the local Buffalo farm. We found out the address and after shopping in Ragusa we went back via the farm. We found it quite easily and it turned out it wasn't very far from the marina, well a short car ride or maybe a longish cycle ride.
First of all we went to look at the buffalos, we were quite surprised at the number they had. As we went towards the buffalos we were greeted by a dog. The dog stayed with us during the tour of the buffalos, in fact he guided us round.
Stephen pets the baby buffalo under the watchful eye of the "guide dog"
At one point the dog got rather jealous of the attention the baby buffalo were getting and stuck his head under Stephens hand so he got a stroke on his head too.
Anne takes a photo of the buffalo under the watchful eye of…err the buffalos!
Too busy eating to care if we take a photo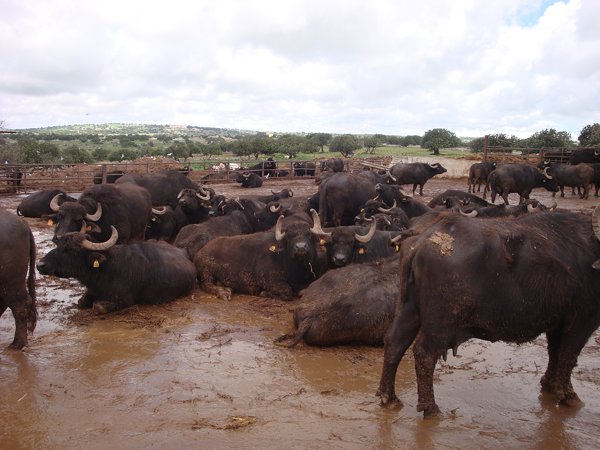 The buffalo like the wet muddy conditions
Apart from seeing the buffalos one of the main reasons for going to the farm was to get some fresh Buffalo Mozzarella cheese. The mozzarella is really fresh, it was made earlier in the day. We were told not to put the fresh mozzarella in the fridge until after 24 hours, leave it out longer if we wanted a harder texture.
The cheese making facility
---