Bizerte: Ramadan and Margaritas

Wanderingdragon
Stephen & Anne
Mon 24 Aug 2009 18:05
37.16.422N 9.52.817E
The other day we invited Paulo, Virginia and Carlo (the Italians) and Miya and Ida (the Tunisians) over for a drink and nibbles. We managed to have a good time chatting, even with the language differences; we used a mixture of English, French, Italian and Arabic. Their only disappointment was the food we provided was very international and they were hoping only for traditional English food. We tried to explain it's too hot to cook fish and chips!
The jobs onboard continue. Anne tied a Turks Head (the knot variety) to the steering wheel so it's easier to know where center is. Stephen launched the dinghy and cleaned the hull. We both got up early one morning and cleaned the decks before breakfast to avoid the heat.
On Thursday we went into town as it was the start of Ramadan. It was the same as usual, cafes busy, people eating in fast food shops etc. We knew Tunisia was a liberal Muslim country but not quite this liberal. When we got back to the boat and checked the date we were a day too early!!
Ramadan officially started on Friday at sunset. It was marked by several loud bangs of canons being fired. We went into town on Saturday and this time the cafes were closed and people on the street were not eating or drinking. Otherwise everything was normal and we bought the usual fresh fish and vegetables at bargain prices (such as a massive bunch of parsley for 5p).
Each evening during Ramadan a loud cannon bang marks sunset when the Muslims can start to eat and drink. In the Lonely Planet guidebook it says "Ramadan is an experience and although cafes are closed during the day they come alive at night often holding impromptu live concerts". Well they never visited Bizerte during Ramadan. At sunset the place became eerily quiet, there was not a single car or noise anywhere in the city. We could only imagine everyone at home furiously eating and drinking after a day of fasting. We went out for a walk and the place was absolutely dead (apart from all the cats that had come out to play as it was so quiet).
One nice thing about Tunisia is knowing that the fresh food has not travelled far. The down side is the limitation as you can only buy what is in season. During Ramadan we can not buy alcohol any more. We are now down two bottles of wine and a bottle of tequila. Limes have just come into season, and having a "spare" bottle of tequila, what better excuse do we have for making margaritas. This is now our drink of choice for sundowners, well OK it's really our only option, but they are very good. We think there may be a lime shortage in Bizerte now. Still at least one stall holder in the market loves us!
Last weeks supermarket shop was unusual. All went well during checkout except that the till produced lots of paper - much longer than the items we had purchased. The cashier called a supervisor over who gave me (Stephen) the long bit of paper and asked me to sign it, print my name, and another item I had no idea so I printed my name again. Then they refused my money and started to serve the next person. I realised that for whatever reason I had won my shopping and it was all free!!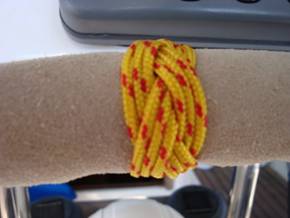 Turks Head knot by Anne
---