Lagos: Speed Skating

Wanderingdragon
Stephen & Anne
Sat 2 Feb 2008 22:43
37:06.612N 8:40.477W
This morning we visited the local market for our weekly vegetables. Each time we see something new; today it was someone selling white doves, they only had 11 left so they must have sold one already. We also realised that the live chickens are sold by weight as we actually saw someone weighing one!
We then visited the monthly gypsy market out of town. They sold all the usual junk and clothes but at least we had a nice walk out.
In the afternoon Lagos was host to the Speed Skating championships. Teams from far and wide were competing, even one from London. Photos are below. We have no idea on the rules, however team tactics play a part and there is always a mad dash to the finish line as they go around each lap so we assume you get some points for finishing first on each of the laps.
In the evening we had a quiet night in watching a DVD.
The Speed skaters all have the latest wheels and very colourful too!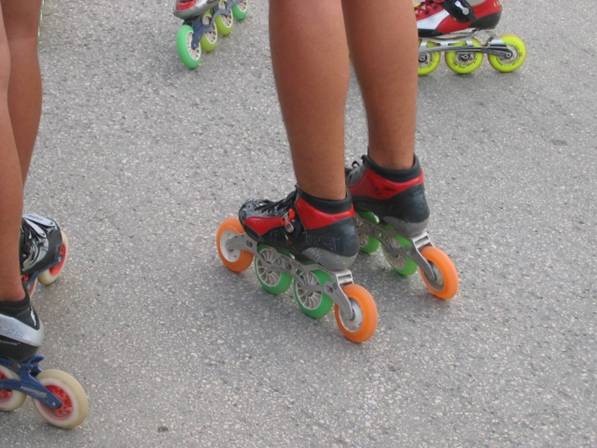 It's a bit like cycling with team tactics and slip streaming
…and then it's a mad dash to the finish
Afterwards the kids got the chance to race…however the one at the bottom in the pink helmet was
more interested in me taking her photo as she slowed down to smile!
---