Syracuse: Life At Anchor

Wanderingdragon
Stephen & Anne
Tue 24 Jul 2012 13:51
37.03.525N 15.16.961E
After our exploring of Syracuse the last two days we had a day off and stayed on-board Wanda on Thursday.
While we were having breakfast on Thursday morning we heard a strange drumming sound, Anne thought it was a drum, Stephen thought it was a misfiring engine. When we looked out we saw we had a net strung out in front of us. There were three men in a small boat trailing a net and one of them banging on a drum, presumably to try and scare the fish toward the net. We watched as they lifted the net, we're not convinced it's a very productive way of catching fish as we couldn't see them land any!!
The three fishermen hauling in their net
On Friday we went off again in the dinghy into town to stock up for the weekend. At the market we managed to avoid the "all you can eat" stalls and got our shopping fairly efficiently. On our way back we checked the lines holding our anchor chain. We have rigged up the ropes so they are holding the boat on two cleats (a strong point) and not the anchor windlass (the electric motor for retrieving the anchor – a relatively weak point). We would soon be glad of this precaution.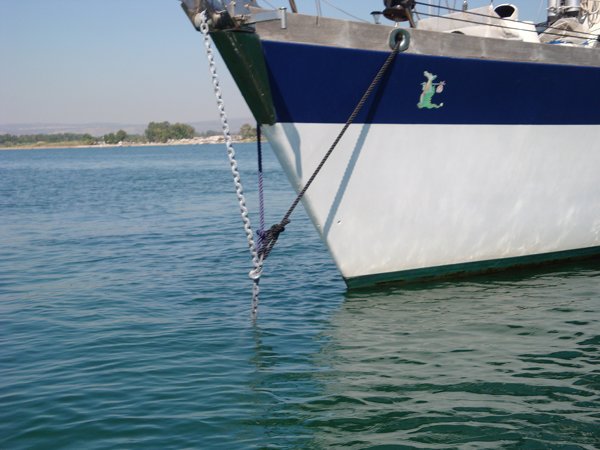 Wanda at anchor
We were up early on Saturday and got Wanda ready for going sailing. We headed out of the bay so we could run the watermaker and fully charge the batteries. The water in the bay is pretty horrible so we don't run the watermaker while at anchor. To start with there was hardly any wind so we just motored off. When we turned to come back the wind picked up and we unfurled the genoa to help with our speed. With water tanks and batteries pretty full we headed back to anchor.
Syracuse old town on our way back into the bay
Monday was forecasted to be rainy and for once the forecast was correct. We woke up to our first sound of rain for over 3 months. Through the morning it was just spits and spots of rain and the odd rumble of thunder, nothing too bad. With the sound of thunder we ensconced our handheld GPS and radio into the oven. (We've been told this works as a faraday cage and helps to protect from lightning strikes)
Just after lunch the rain really started. Anne settled down in the saloon with the computer and Stephen was reading. We decided to pop out to see what was happening, the wind had picked up to a constant F6 gusting to a F8 and the rain was lashing down. Visibility decreased, rain and wind increased.
We then spotted a boat drifting quickly past as its anchor had not set correctly, or not enough chain was deployed, or probably both. Our wet weather gear was quickly deployed (yes we do still have some) and we took up vigil in the cockpit. Luckily the dragging boat drifted past not hitting us – we also realised no-one was on board. There was nothing we could do other than watch it go heading out of the bay to open water – it was far too dangerous to get in the dinghy. Just as it got passed us its anchor caught again, and it stopped drifting – how lucky. Two other boats (both catamarans) also started drifting but people were on-board so they were able to start their engines and motor around. For about an hour the wind howled and the rain lashed down. We took it in turns on watch in case any other boats drifted, or in case we did. During this time we had the engine running (well we needed to charge the batteries anyway). Eventually the wind eased, the clouds parted and the sun reappeared, what was all the trouble about.
We held firmly during the short sharp gale, happy with our choice to deploy plenty of chain. The purchase of a new modern anchor (a 33Kg Rocna) and upgrading to a much heavier chain now seems very cheap! We were also very glad to be held on by both cleats.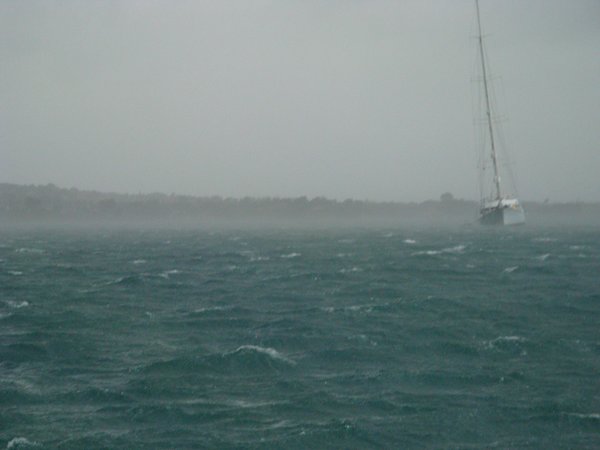 Just a little bit of wind and rain
---