Levkada -> Vathi, Ithaca

Wanderingdragon
Stephen & Anne
Wed 31 Aug 2016 16:16
38.22.220N 20.43.049E
After a few idyllic days in Varko we headed back to Vlikho. We had arranged to meet up with friends to go out for a meal.
From Nidri we headed up the hill to concrete bills bar then to Dimitris for a meal.
The view from Dimitris – well worth the walk
We timed our arrival at Dimitris rather badly in one way and rather well in another. We arrived just before a wedding party. Unfortunately we were so busy chatting with Simon and Katie catching up we didn't order our meals quickly enough. So we had to wait for the wedding party to be served. The waiters were rather good at bringing wine to our table, eventually we had to insist on some bread to keep us going until we could order food. While we were eating we were provided with entertainment when the wedding party started dancing.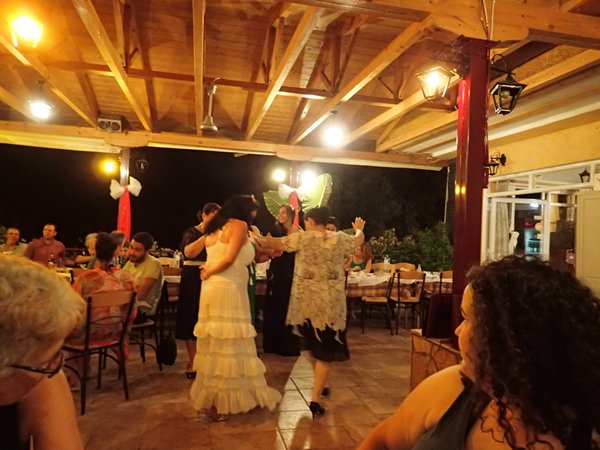 The ladies dancing first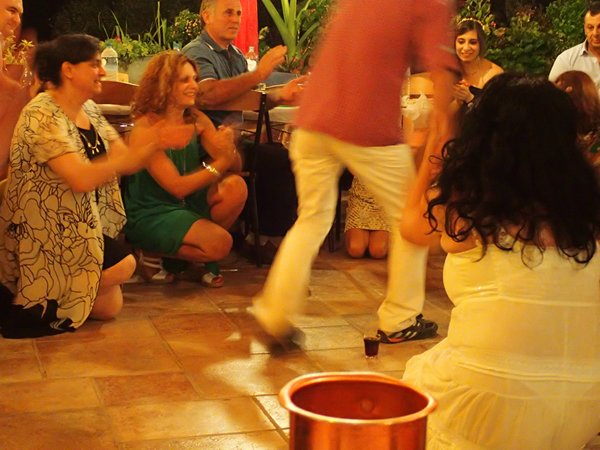 Men had to dance round a glass of wine
After the excitement of the wedding we went off to Spartikhori to meet more friends Paul and Rachel. We failed to get any entertainment laid on this evening so instead we went to the beach bar for cocktails,
Anne and her Margarita
From there we headed back to Vlikho once again as there were some stronger winds forecasted.
A few days later we realised there were 8 or 9 boats from Marina di Ragusa in the bay. What else could we do but get together and have a drink/meal out. We had a lovely evening catching up discussing our summer cruising.
Just as we were delivered our complimentary ouzo one cruiser noticed the wind was picking up. Soon afterwards we heard horns sounding. We looked out in the bay to see the wind was quite strong and boats were dragging and getting caught up together. Immediately we all stood up demanded our bills and ran to our dinghies.
The calm before the storm
We returned to Wandering Dragon slightly damp. We then spent the next hour or so in the cockpit with our lifejackets on keeping a watch for boats dragging and checking we were not on the move. We spotted a boat heading our way, so fenders were ready, luckily it missed us. Suddenly a rib arrived at the dragging boat and like an sas manouvere two guys from the rib got onto the boat and let out more chain and ensured the boat was secure, then returned to their rib off to the next boat in distress. We found out later the boat had dragged from one side of the bay to the other. As far as we know it managed to make this trip all on its own without hitting any other boats.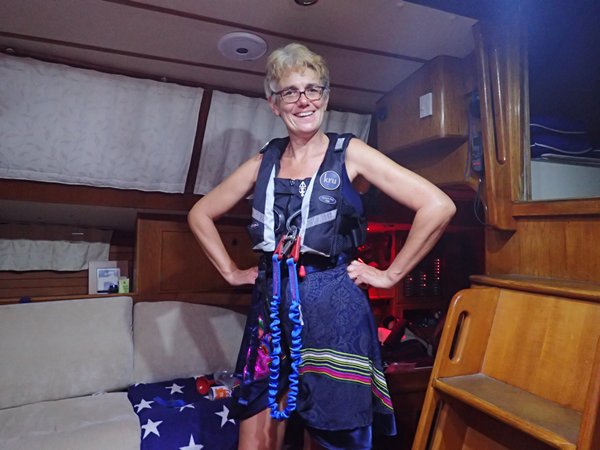 Anne modelling this seasons must have fashion accessory …… a Lifejacket. The wind had eased off at this point.
After all that excitement we decided it was time for one last day in Varko.
We then headed off south down to the island of Ithaca and the port of Vathi. We had a couple of quiet days in Vathi, although the wind was blowing a good 20 knots from mid afternoon through most of the night. We filled up with diesel and stocked up with food.
Choppy seas in the port of Vathi
---