Peniche

Wanderingdragon
Stephen & Anne
Sat 20 Oct 2007 16:15
38:21.146N 9:22.62W
On Friday we went exploring Peniche. We found the local market and the people were very friendly – it's a shame we didn't understand most of what they said. The fruit and veg was excellent quality and very cheap.
Lunch was tuna so Yoyo and Koshka were very happy as well. In the afternoon we explored the local fort and found the local super market.
Today, Saturday, we are having a boat maintenance and chill out day – well that was the plan. This lunch time the local marine police were having a bar-b-que and Stephen managed to get himself invited along. Stephen in his usual way then got invites for Anne, Jenny and Chris. So we spent the early afternoon drinking home made wine, eating bar-b-qued sardines and chatting to the marine police (a little tricky at times as we can't speak Portuguese and their English was limited). Yoyo was given part of a Sardine – so she was extremely happy. We also got a tour of the police boat which can go at 50 kn and has 2 extremely large engines.
On Sunday we will sail to Cascais, near Lisbon.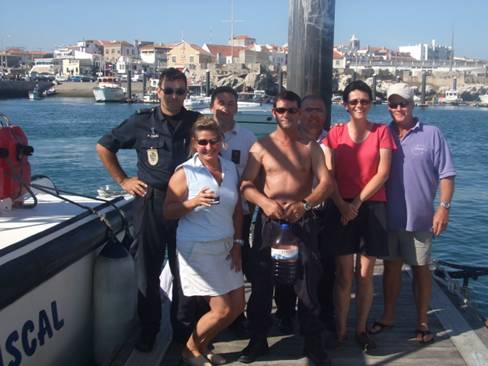 Anne, Chris & Jenny (our friends from Mistletoe) and the police had a party…..
….while Stephen had to wash up under the watchful eye of the local marine police!
---