Bizerte: Utica, Sidi Bou Said & Carthage

Wanderingdragon
Stephen & Anne
Sat 18 Jul 2009 09:30
37.16.422N 9.52.817E
This week we have been getting on with replacing the mossi nets and other boaty jobs. We also went for a walk up to the Kasbah, and had a wander around on the Kasbah walls.
On Wednesday we hired a car and went out for a drive with Lorraine and Paul. First stop was Utica. Utica was the first Phoenician city in North Africa founded about 1100BC. Utica was a thriving port in its day, however it is now 15km from the coast. The main attraction here is three roman villas with mosaics. As we wandered into the site we were "picked up" by a guide. He showed us round and sprayed the mosaics with water to bring out the colours. Unfortunately he couldn't speak English, so Lorraine had to translate his French.
We then drove on to Sidi Bou Said. The town here is supposed to be very picturesque and what we saw did look very nice. On the approach to the town we saw a large number of coaches parked and long crocodiles of pale looking Europeans walking into town. We decided to drive further into town, enjoying the comfort of air conditioning. In town we found signs to a car park. We paid our 2 dinar and set off to the carpark. Stephen decided we could get nearer town than the obvious car park and so drove past. We then decided we should have stopped so he started turning round, only to find out we were on a one way road. So we had to carry on – our route eventually took us down one of the main streets which was full of tourists and tacky gift shops. At this point we all decided this place was going to be far too busy to be enjoyable so we drove on to our next destination. We did decide that it was 2 dinars well spent though – to drive round, our only regret was that we had not managed to do a bit of haggling for a stuffed camel from the comfort of the car!!
Our next stop was Carthage. Carthage is another Phoenician city founded in 814BC. The Phoenicians were from what is now Lebanon. In the 7th century BC Carthage became the seat of Phoenician power. After two ferocious wars with rival Rome, Carthage fell during the third conflict. It was not until a century later that the Romans re-established the city. It became the third largest Roman city after Rome and Alexandria. Our first stop was the Museum de Carthage. We had a little trouble finding it, but after a few wrong turns we got there. We were looking forward to a nice air conditioned Museum, but it was not to be. After a wander round the museum we wandered around the grounds and spotted the 3 huge cruise liners moored up in Tunis, no wonder Sidi Bou Said was so busy!!
For lunch we found a fast food bagette place. We all really enjoyed our lunch, a filled freshly baked baguette, fries and drink for about £2 per person. After lunch we went round the Roman villas. There wasn't really much to see, but the views over the bay were quite nice. We could also get the best view possible of the presidential palace.
We all decided at this point we had had enough history for the day, so we plunged ourselves back into the 21st Century by visiting an out of town shopping mall. There was a large supermarket there so we wandered round. We soon realised there wasn't actually much more choice here than in the little supermarkets in Bizerte, the only difference was the size and there was more of everything. Having stocked up on bulky items and both couples armed with electric bug zappers (the one with the blue light) we headed back to the boats.
In the evening we had a few glasses of wine and Stephen cooked dinner for us all. It was a lovely evening to round off a thoroughly enjoyable day. We all agreed the highlight of the day was the drive through Sidi Bou Said, we were all so glad we didn't stop!!
Below are pictures from Utica and Carthage.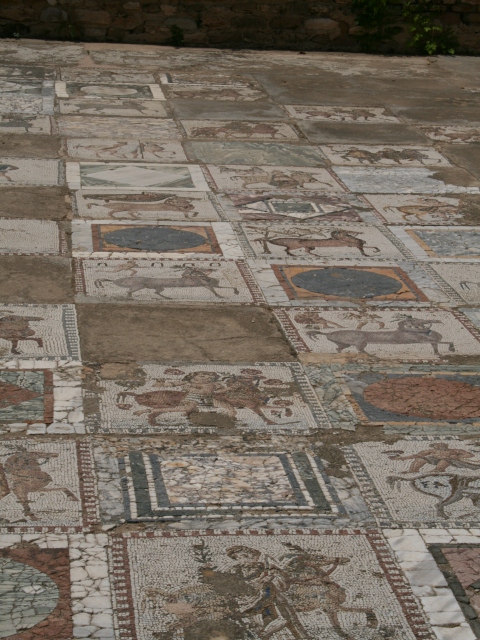 ---