Cagliari: Cats Home Alone and Christmas

Wanderingdragon
Stephen & Anne
Sat 16 Jan 2010 15:40
39.12.065N 9.07.517E
We have been settling into life in Marina Del Sole for another winter. Julia found someone to give us Italian lessons – so a group of about 8 of us meet on a Tuesday and Thursday for Italian. It's made us realise we are not natural linguists – but we have a little more confidence when we go out shopping to try some Italian.
The cats have had five weeks "Home alone". Kath and Gavin from Blue Elephant looked after them while we were away in Canada and gave them both lots of TLC. Apparently Koshka and Yoyo hardly went out and didn't explore at all while we were away. As soon as we were back Yoyo decided to explore the pontoon. She was quite happy for a while wandering along the pontoon – then she realised she didn't know which boat she lived on. Luckily Stephen was nearby, to pick her up and carry her home. Koshka has been enjoying the warm sunny days, and the heater we put on a night to keep the boat warm. Both cats have missed us, and want to sit on our laps at every opportunity, which can make life difficult at times.
The weather this winter, so far, is much improved on last year. The evenings can get cold, but the daytime is usually a nice temperature, often with clear blue skies. We had the first real bit of wind arrive on New Years eve (30kn gusting into the 40's). However this was a lot less than last year and being in a better positioned meant it was not a problem at all – except the cats didn't like the noise of the howling wind. The pontoon also lost power due to a small fire in an electrical box. New Years day was then spent playing all the board games we had on board waiting for the wind to die down and the power to return.
The new dog we mentioned in the last blog has been re-homed. An Austrian couple arranged for her to be sent to Austria and a new life with a family. We have heard she is settling in very well.
This year the marina Christmas dinner was held on Christmas eve. We had a fun afternoon/evening eating traditional Christmas lunch. Each boat provided part of the meal, we made a Nut loaf and Mince pies (we had to make the mincemeat ourselves as it's not available ready made)
First job of the New Year was to hook up the new batteries. These are working well and hopefully will last for a good few years
Yoyo wishes all her blog readers a Merry Christmas and a happy New Year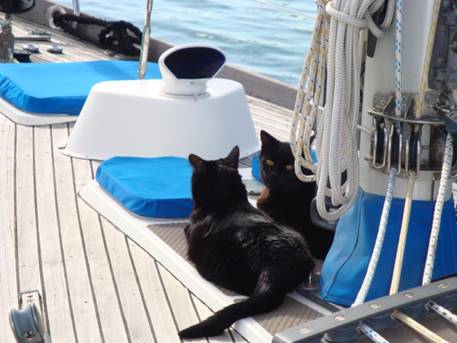 This year we had the Christmas party on Christmas eve with all the live aboards Koshka and Yoyo sunbath on a sunny Boxing day
A picture of the snow in Whistler, Canada (just to make all the people in
the UK feel at home!)
---