Cagliari: Wanda gets lots of TLC

Wanderingdragon
Stephen & Anne
Thu 21 May 2009 14:09
39.12.1053N 9.07.500E
Over the past 2 weeks we have been busy working on Wanda. The weather has really improved now, it's been hot, hot, hot (I suppose we can't complain after the horrible winter). There was a news item on Italian TV about it being a heat wave, with temperatures of 29 C.
We have been working hard. We replaced the carpet in the wardrobes, meaning we have one less role of material in the forepeak. We gave the inside of Wanda a good spring clean. The forward hatch was replaced and a new handle put on the lazzerette.
We had been having problems with bits in our water, so we cleaned out the water tanks and replaced the pipes (along with an upgrade in the connectors between the two water tanks so we don't have to wait for the water to level out between the tanks as we fill them). We think the pipes were original (23 years old). We installed a new pump and accumulator and learnt a lot about plumbing the traditional way with hair and paste instead of Teflon tape on the joints (courtesy of a very nice Sardinian plumbers merchant). We think we have now found a use for all the cat hair Koshka and Yoyo molt.
We started checking Wanda to ensure she is ready to sail again. Anne was voted the person most likely to go up the mast, so off she went cleaning, checking the rigging and replacing any corroded light bulbs. We also cleaned the teak decks (2 days of hard work – don't they look nice in the pictures!).
On the fun side of life (ok its all fun really), we went to a Mamma Mia night and sang our little hearts out, had Simon and Katie from Gin Rummy over for dinner and went to several leaving drinks (it really is time we went now).
We also managed to fit in all the normal living jobs such as giving each other a hair cut, buying lots of nice Italian food for when we leave, and washing all the winter clothes so we can store them away at last.
Anne even managed to find time for some painting.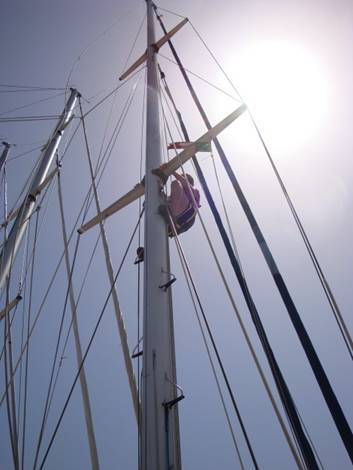 Anne's hoisted up the mast in a full climbing harness (that's why her bum looks big!)
She even had time to take a picture of Wanda's clean decks while hanging around
Stephen carefully checks she is cleaning the mast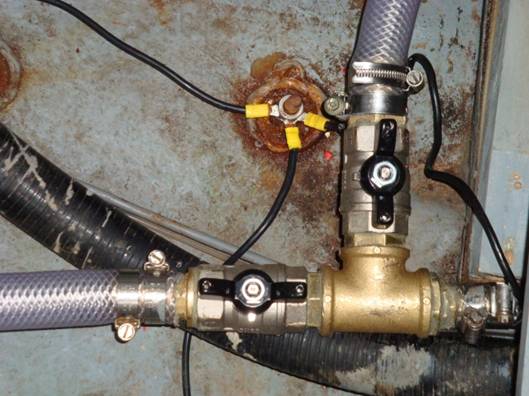 Stephen was proud the 1" plumbing joint finally didn't leak after using hair and paste (what simple lives we live)
Anne's latest watercolour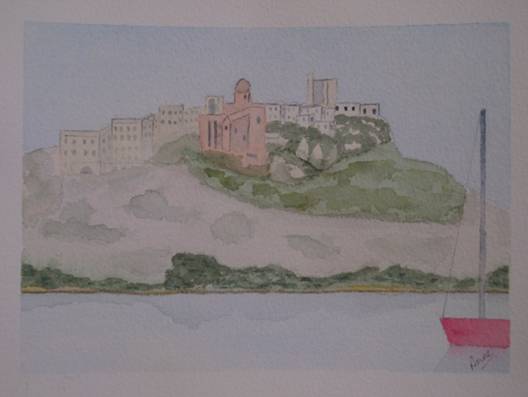 Finally Anne finished her watercolour of Cagliari town
---