Monastir: The Ribat

Wanderingdragon
Stephen & Anne
Sun 14 Aug 2011 19:26
35.45.385N 10.50.197E
On Sunday we decided to use our "extra" day to explore Monastir. The main attraction is the Ribat, an Islamic fort. The original Ribat was built in AD 796. Over time it has been extended and renovated. Today it is a labyrinth of passage ways and stair cases. We found our way up the "nador' (watch tower) which is one of the oldest parts of the Ribat. From the top of the tower there were great views of Monastir. The Ribat is very popular with film makers and was used for Monty Pythons Life of Brian.
After exploring the fort we had a small walk around town – it was very hot hence we did not explore much. We had a look around one souvenir shop which was beautifully air conditioned and had some of the nicest Tunisian souvenirs we have seen. We managed to resist buying anything and carried on our way to the Supermarket. After stocking up on some food we set off to find a taxi to get us back to the fishing port. We had to haggle hard with the taxi drivers. Most wanted to charge double because it was quiet and they "had been waiting for a fare for 2 hours"! We were just about to give up when a nice Taxi driver appeared who was very friendly and happy to get any fare, so we paid a fair price.
View inside the Ribat
View of the main courtyard of the Ribat – used for the Monty Python Life of Brian film
View of Monastir town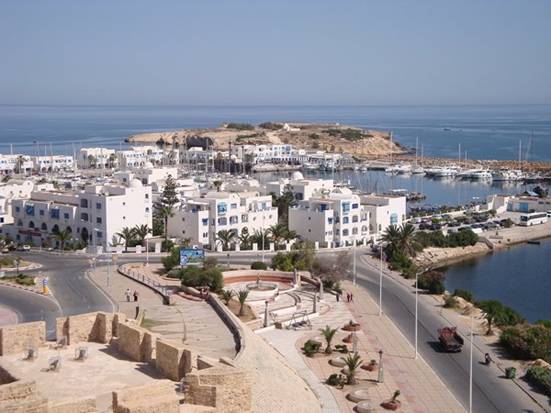 View of the marina in Monastir. We were lifted out in the fishing port a few miles along the coast.
---