Ag Nikolaos, Crete -> Sitea, Crete

Wanderingdragon
Stephen & Anne
Thu 1 Jun 2017 17:13
35.12.484N 26.06.614E
We checked the weather, and it all looked good for the next week or so, so it was time to say goodbye to our winter home. After a short delay waiting for the fuel pontoon to be available ( the boat before us had fueled up then gone to the supermarket, thanks very much guys! ) we were off.
We had expected some wind once we got out of the marina, but none came, so we had a leisurely motor to Sitea. We managed to find a space on the harbour wall. Unfortunately there was no one else around to help us moor up. Luckily we remembered how to moor up alongside and Anne managed to get from the boat onto the shore without falling in. Finding somewhere to tie the lines was a little tricky, but we managed, and soon Wanda was sat happily against the wall.
During our pre sail checks we noticed the coolant was a little lower than we expected. We kept a close eye on the engine temperature while underway. On arrival we checked again and the coolant was lower still. Hmmmm .... do we have a problem?
Friday 2nd June
We decided to have an easy day. We went for a quick walk to find a supermarket. We had already visited Sitea in the winter, the photos below are from our winter visit.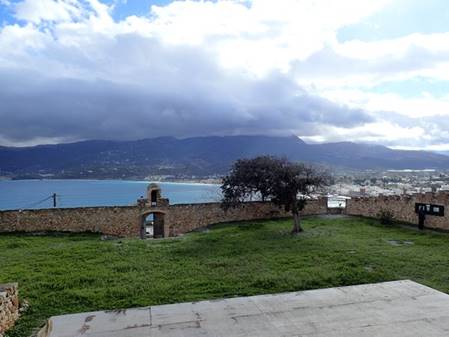 The tiny Fort at Sitea and the view over the town
The Harbour at Sitea
---