Mini Road Trip day 1 - Pamukkale

Wanderingdragon
Stephen & Anne
Wed 14 Jun 2017 06:19
In preparation for the road trip we moored up on the Ersoy Pontoon. It is a taverna pontoon, so the usual deal is you eat at the taverna and mooring, water and electric are included for no extra cost. This year tourism is down in Turkey, so they were grateful for the custom. We managed to agree a deal, where we paid for moorings rather than eating at the taverna.
The following morning we were off on the bus to Marmaris again. We picked up the hire car and we were on our way to Pamukkale.
After we had checked in to our hotel in Pamukkale we walked to the travertines.
Pamukkale literally translates to Cotton Castle, in reference to the brilliant white calcium deposits that cascade down the hillside. At first we were quite disappointed, the lower deposits were brown and dirty, with very little water.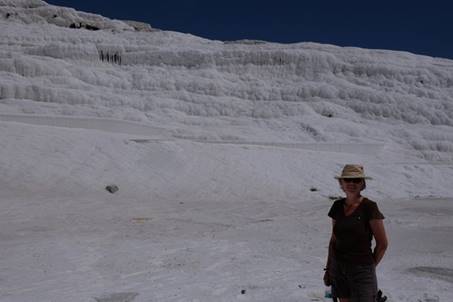 The lower section
As we walked further up we got to see the true spectacle of the place.
The white calcium and blue pools
We had to walk barefoot – to protect the soft calcium from erosion of many feet. We thought this might be a bit uncomfortable, but actually it was a wonderful way to exfoliate our feet. They were really soft at the end of our walk.
Feet being softened
At the top of the travertines are the ruins of the Roman and Byzantine spa town of Hierapolis. We hadn't expected such a large area of ruins, we really must read our travel guides more carefully. Instead of exploring the ruins we decided to have a rest and try some Turkish ice cream. The Turkish ice cream was a bit different to what we are used to, but very tasty.
Anne went off for a bit of a wander to see the ruins
Some of the Hierapolis ruins
On her way back she spotted the roman theatre. As we both love a roman theatre we set off up the hill. Wow were we glad we made the trip. It is one of the best theatres we have seen
Roman theatre at Hierapolis
It got the thumbs up from Anne
After exploring more of the upper travertines, and watching the wedding photographer at work we set off back into town and a well-deserved dinner.
---