Denia: Hot Cats

Wanderingdragon
Stephen & Anne
Mon 16 Jun 2008 23:00
38.50.429N 0.07.131E
Over the last two days it has been hot hot hot! We now go to bed at midnight as it takes until then for it to be cool enough to sleep. The cats are only active from 9pm to 9am.
On Sunday we needed to get the boat ship shape. We had thrown lots of stuff in the forward part of the boat so we needed to sort it all out properly. As it was so hot we used the opportunity to open up under the front berths and air it out. We have also been making more insulation for windows to help keep the boat cool.
On Monday we continued the sorting and went for a slow walk into town (it was really warm in the morning so fast walking is not an option)
On Monday evening we had a few drinks with Richard & Karen on Pyxis. On returning to Wanda, we opened up and thought how cool it felt. Then Anne checked the temperature it was 340c in the boat!!! Not sure what the external temp was and it was 8.30 in the evening. Summer has arrived!!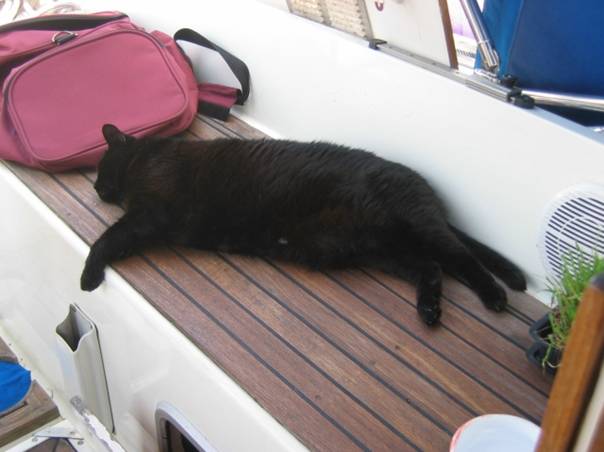 Koshka flaked out on deck
---