Gibraltar

Wanderingdragon
Stephen & Anne
Sat 29 Mar 2008 20:22
36:08.940N 5:21.304W
Today's big news is the wind changed direction and the boat stopped rocking. We were happy and could run around the boat; the cats were happy and could run around the boat.
For those people guessing how Yoyo would react to the netting that stops her jumping onto the boat next door, the answer is b) An object that makes Yoyo jump further as she now jumps from the edge of the netting. Plan B will implemented when we can buy some longer netting. Maybe it's a waste of money as she may then simply go over the top.
The down side to the wind changing direction is that it became cloudy (this is a usual occurrence when the wind comes from the east). We decided we could both get off the boat today, but it wasn't a good day for exploring the top of the rock so we headed to the shops once again. First of all we went to look for another chandlery, which we failed to find. We then went to look for the DIY stores. We found one after a rather long walk, but failed to find the second one. On our way back to the main street we went past Trafalgar cemetery and then headed to the main street. We treated ourselves to a new DVD "The Vicar of Dibley".
This afternoon we had a quiet afternoon onboard the boat reading the pilot books for the next leg of our journey. We also had to keep an eye on Yoyo who is now jumping larger distances to get to the boat next door.
This evening we watched a couple of episodes of the Vicar of Dibley.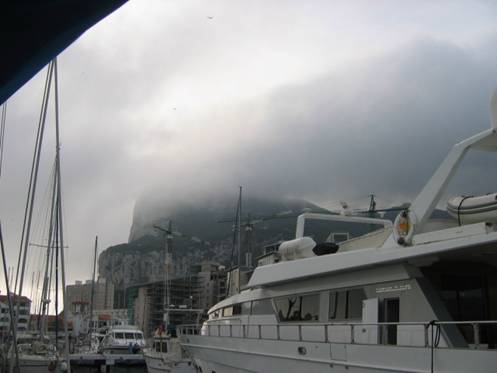 View from the boat this morning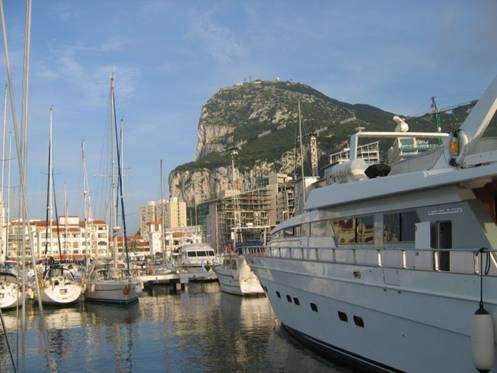 View from the boat this evening
---