Marina di Ragusa: Ottobrata Zafferanese 2012

Wanderingdragon
Stephen & Anne
Sun 21 Oct 2012 19:43
36.46.84N 14.32.74E
This week was another very social week as more and more people have arrived in the marina. We caught up with Alan & Suzanne (JolliI Jumper). We last saw them in Glasson Docks in the UK. We also caught up with Con & Barb (Big Sky) whom we last saw in Lagos, Portugal. It has been great catching up with peoples travels but it has meant the jobs have slowed down substantially L
We hired a car on Friday for the weekend. On Friday we took John & Vanessa out wine tasting and shopping. First stop was the wine tasting at Fratellimazza.
Stephen choosing the wine he wants to try …..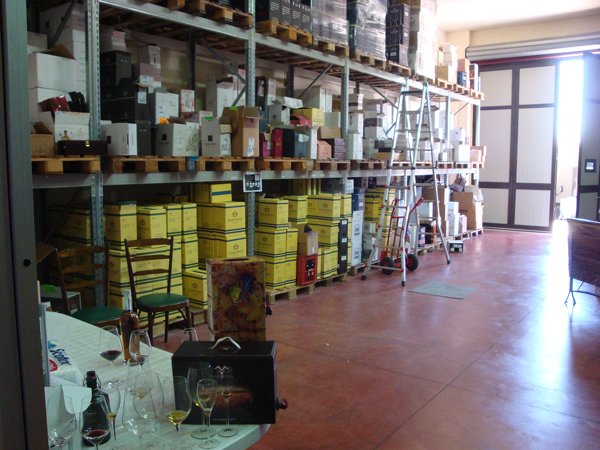 The reality of the wine tasting – from 5 or 10 litre boxes in the warehouse. At around 2 euros a litre it's reasonable value.
We then went on to shop at Lidl and the large shopping mall outside Ragusa. On Saturday we repeated the morning trip to the wine tasting and Lidl with Melanie and Carl.
On Sunday we headed off to Catania and beyond. We had heard about a food festival in a village on the foothills of Etna. The festival is called Ottobrata Zafferanese. It is held in the village of Zafferanese each Sunday in October. Each week they celebrate different foods. The Sunday we went it was supposedly Mushrooms and Honey.
We did find some stalls selling honey
… and a few bees
Honey being extracted from the honeycombs. We bought a jar of this fresh honey.
However we did not find the mushrooms!!
The village was very busy and filled with stalls selling all sorts of foods and crafts.
Cakes – the grren rolls are cannoli – these are pistachio pastry filled with sweet ricotta – delicious!!
Cheese and Ham
Olives
Limoncello – a lemon liquor
Along with artists demonstrating their work
Typical Sicilian pottery
A street artist working in spray paints
We have no idea what sort of dance or who these people were!
We found a slightly quieter spot by a fountain made of volcanic rock
Cheese, bread and wine. What more could a person want.
---