Port Leone, Kalamos -> Marathia Bay (The gusty place)

Wanderingdragon
Stephen & Anne
Mon 21 Jul 2014 16:37
38.30.299N 21.02.025E
In search of more isolation we travelled south and to the mainland and found a quiet anchorage. Most of the time we were the only boat in the bay! We worked out why it was so quiet – it was very gusty. We had winds of 20 to 30 knots most of the time from all directions. We did have one quite calm morning, but then the wind picked up again for the evening. We deployed our anchor chum to help hold us (a heavy weight we lower down the chain and have just off the sea bed floor). We stuck it out for 3 nights.
We had several people come to anchor with us. We advised them it gets windy so put out plenty of chain out. They all left by mid-evening. Is it us? No…it must be the wind! On the last night we thought there were lots of cars driving along the road as we saw their headlights….no silly us it was a lightning storm. We have earned our "3 day Marathia bay badge" so it is time to move on.
It was a fairly productive stay. Anne made a cover for the new fuel tank for the outboard and whipped marks on the Anchor chum rope. Stephen started wiring up the AIS.
The bay during a calm bit (without the wind early in the morning)
The view to the head of bay where there is a local Greek campsite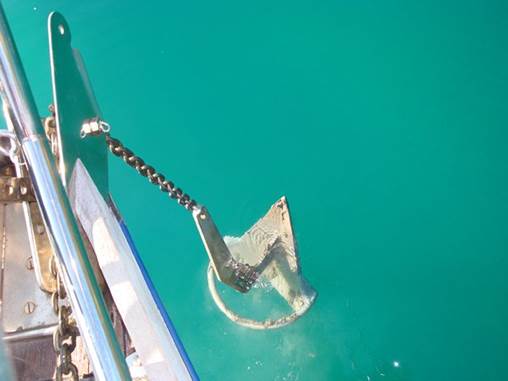 For those sailors reading don't be put off visiting – the holding is very sticky clay.
This is our anchor on retrieving (we have put a picture of it cleaned as well so you can see how well dug in the anchor went – all the way in!)
---