Vonitsa -> Vlikho Bay

Wanderingdragon
Stephen & Anne
Wed 17 Jul 2013 12:54
38.41.173N 20.42.105E
During our evening out with Karen and Richard we decided to follow them down to Levkas and to Vlikho Bay. At 8am we had a quick chat on the VHF and then got ready to go. We motored out of the Gulf of Amvrakia.
Once we were out of the entrance to the Gulf we realised there was a largish swell which wasn't too much of a problem but did make our motor down to Levkas a bit uncomfortable. We needed to time our arrival at the Levkas Canal so we arrived in time for the bridge to open (this happens on the hour every hour). We managed to time the sail pretty well but had a few minutes to motor around just before the canal. The entrance to the canal is very narrow and very shallow which makes it a rather interesting experience, especially when you need to make sure you are ready to go through the bridge when it opens – so timing is very important.
The motor boat in the picture is in the canal – it's rather strange seeing a boat going along a beach!!
From the canal looking out to sea.
We made our way slowly through the canal towards the bridge. We heard the siren that sounds as the bridge opens – so started to shuffle up closer to the boats in front.
The bridge opened and boats started coming through from the other direction.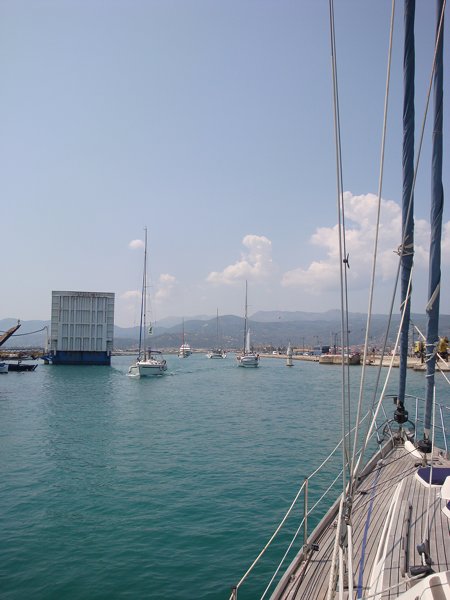 This photo makes it look much more spacious than it felt!! Especially when there is a rather large motor boat heading straight for you.
We were the second to last boat through and the bridge closed very soon after the last boat was safely past.
It's quite an interesting design of bridge which swings round.
We then motored down past Levkas town and along the rest of the canal (approx. 3 nm). When we exited the canal there was a slight wind so we put out our genoa and motor sailed for about 2 minutes – then the wind dropped and we had to motor the rest of the way to Vlikho bay.
Vlikho bay is rather a nice bay – it's at the end of an inlet and is only about 5 or 6 metres deep all across so you can anchor pretty much anywhere. It is surrounded by hills – it does feel a bit strange to look out of the boat and see hillside. We had a quiet evening in after all the excitement of the Levkas canal.
---