Lagos

Wanderingdragon
Stephen & Anne
Thu 24 Jan 2008 11:51
37:06.612N 8:40.477W
Wednesday
Today we went for a walk around Lagos town to show Mum and Dad the sights. The weather again was good, warm and sunny. We were also looking for some decent sized mugs. Mum & Dad's hotel room has a kitchenette with 2 sizes of cup – small and even smaller. So to be able to have a decent cup of tea/coffee they wanted some normal sized mugs. We successfully found some. After a cup of coffee and a cake we wandered over to the fort – unfortunately we arrived a lunchtime and it was closed.
In the afternoon we all took it easy – reading books and playing on the computer.
This evening we took Mum and Dad to the local Portuguese restaurant where we had fish and chips Portuguese style. We got to choose the fish we wanted from a plate of fish bought to our table. We chose the fish with just the right glint in its eye! The fish is then grilled and usually served with potatoes.
Yoyo and Koshka got the remains of the fish (we have got into the habit of taking a plastic bag with us so we can bring the scraps back)
Thursday
After a quick trip to the supermarket we started preparing the boat for sailing. Dad has wanted to go for a sail for a while so we thought this was the ideal opportunity. We got everything stowed and put the ropes back to where they should be. We then decided we weren't happy with the weather so decided not to go today.
Koshka and Yoyo realised we were getting ready to go sailing and took up their usual positions onboard.
In the afternoon Stephen and Anne had a hair cutting session. Anne is getting much better at cutting Stephen's hair. Stephen had his first go at cutting Anne's hair. It's now a bit lopsided but Stephen has assured Anne it will grow back and next time he will do it better. In the meantime he has helpfully suggested she walk around with her head on one side so the hair looks straight.
This evening Mum cooked dinner. It consisted of Prawn cocktail (prawns from the local supermarket), pasta and chocolate orange mousse. It was delicious. No scraps for the cats tonight.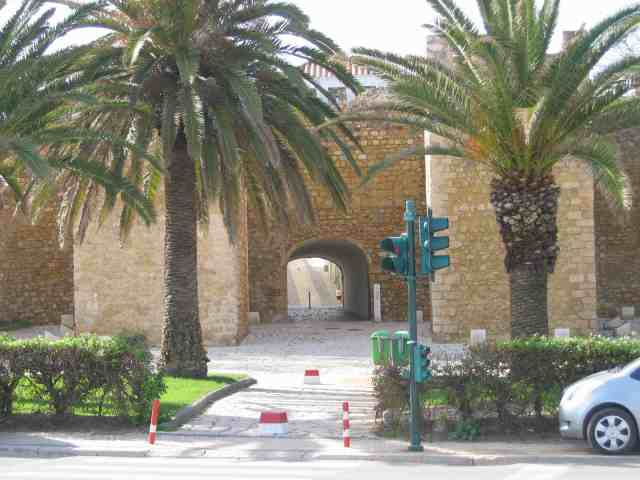 Lagos city walls on our walk around town on Wednesday
---