Mini Road Trip Day 2 - Afrodisias

Wanderingdragon
Stephen & Anne
Thu 15 Jun 2017 06:20
After a leisurely breakfast we asked the hotel owner the best way to get to Afrodisias. He told us the main road was usually the best way, but due to roadworks the scenic route might be better. We decided to try the scenic route. The scenic route was scenic, but very twisty turny. We did quite well finding our way, the one wrong turn we made was by some workmen. They tried to tell us we were going the wrong way, they smiled wryly when we went passed them the second time.
Afrodisias is another rather extensive site of Roman and Byzantine ruins, but very few tourists visit. We had the site pretty much to ourselves. It must have been quite an impressive town in its day.
The South Agora – the centre was a pool.
Another view of the South Agora
270m long Stadium with seating for 30,000.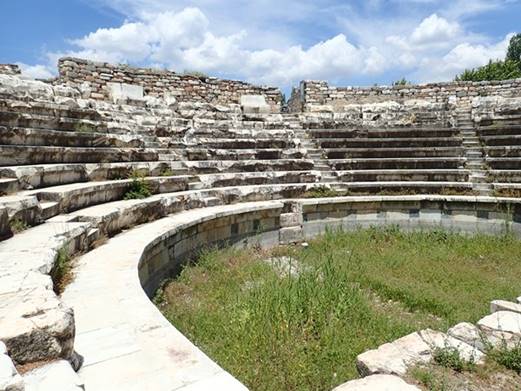 The Council House – preserved for nearly 1000 years under mud.
The amazing detail still visible on the council house seating
The Sebasteion
A Bulls head carving outside the museum
After an rest and an Ice Cream we got the tractor ride back to the car park and headed back to the boat.
---