Crotone -> Levkas area

Wanderingdragon
Stephen & Anne
Sun 7 Aug 2016 14:12
38.45.970N 20.48.121E
With Wandering Dragon back on the water our thoughts turned to heading to Greece. After checking the weather forecast the time to go was the following day. We headed round to the southern harbour to fill up with fuel, then back to the northern harbour to anchor for the night.
Anne had a trip up the mast to fit the new windy indy (you may remember we had trouble with our wind indicator on the way to Crotone). Ropes were re-attached, and Wanda was prepared for sailing
The following day we checked the weather forecast again it all looked good.
We lifted the anchor at noon. After going round in circles for a while we were off. We had to go round in circles to re-calibrate the wind instrument that we had replaced at the top of the mast!
Winds were light, but unfortunately the sea was rather lumpy and rolly, which made things uncomfortable. To start with the main sail was helping us, but then it just started flapping around as we rolled. When we learnt to sail one of our first lessons was "" a flappy sail is not a happy sail", so with that in mind the main sail was lowered. Slowly the seas became calmer, but we still had a beam on swell, which meant an uncomfortable rolly motion.
In the early morning the wind shifted again and picked up. We unfurled the genoa and were soon stomping along at 6.8 knots with help from the sails and the engine. Unfortunately the wind did not stay with us and after a couple hours dropped off completely. So we were back to engine only.
The good thing about no wind and calm seas is it makes it easy to see wild life. Stephen saw a fender covered in barnacles, then as it got closer saw it had flippers, oh it's a turtle. We also saw some dolphins.
Just as we arrived outside Preveza the wind picked up. Typical, lots of wind for when we need to manoeuvre up the channel and anchor. The good news was that James, our autopilot, disconnected successfully. The past two years we have approached Preveza James had not released the steering, which meant a very stressful approach to Preveza using the plus and minus buttons on the autopilot. This is not the most responsive way to steer in a busy small channel.
The following morning we were able to appreciate the beautiful surroundings and found a Tern resting on our pulpit.
Our morning visitor in Preveza.
We launched our dinghy and headed into town. We needed some provisions and to check in with the port police. We also spent some time taking photos of Wanda on the water. She looks so pretty
Another picture of Wandering Dragon.
On Sunday we decided to head further south. We headed down to Levkas where there is a bridge that opens on the hour to let boats through. It had been replaced for the past month or so by a ferry, while the bridge was maintained. As the ferry couldn't move as easily as the bridge it didn't open as often. We had heard that the bridge was back so all we had to do was time our arrival in Levkas for on the hour.
We had a good current helping us out of Preveza. Once we were on our heading for Levkas we realised we would not make it on the hour. Up went the revs of the engine. The boat following us also realised they needed to get a move on and the pair of us were racing down to Levkas. Our clean hull meant we went a fast 7.8knots (we normally travel between 5 and 6). We arrived just in time for the bridge opening.
The refurbished bridge.
After another fuel stop, 7.8 knots is not our most efficient speed, we headed to Ormos Varko aka one tree bay aka bungalow bay. This is one of our favourite bays. The water is clear and great for swimming. The sunsets on the mountains are beautiful.
Ormos Varko.
After a few days chilling out we headed off to Spartikhori. Spartikhori is a very deep bay, so we need to tie to shore. Luckily there are a couple of tavernas that have moorings, which are free to use providing you eat at the taverna. I know, a real hardship J
Sunset from the taverna in Spartikhori.
We were in need of a few more provisions so we headed to Vlikho bay. Whilst Vlikho is very pretty it is not known for its clear water so we tend to avoid swimming there. There was another reason not to swim this year …..
….jellyfish….. yuk.
We met up with friends here – so of course it was another night out in a tavern, and another stunning sunset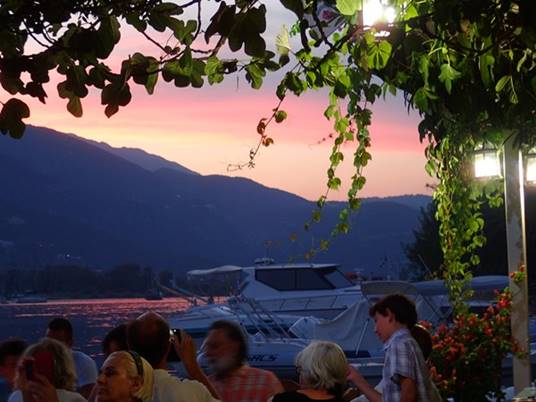 Sunset in Vlikho bay
In among this eating out and relaxing we have managed to get a few jobs done. Stephen was concerned the dinghy was not going fast enough. After trying a few things, changing the fuel etc, he decided it needed a different pitch propeller. Update…..he is still not happy how fast it goes so more thinking is needed.
Stephen changing the propeller on the outboard engine to a higher pitch.
---