Lagos

Wanderingdragon
Stephen & Anne
Sun 30 Dec 2007 22:21
37:06.612N 8:40.477W
This morning Stephen learnt new contortion tricks and spent a few hours in the tiny cupboard under the sink. While he was there he finally managed to install the new pump for draining the sink. It now works silently, mounted on rubber feet and large block of wood to deaden any sound, has no leaks and doesn't trap any electrical wires.
Anne, while stretched out in the sun on deck, managed to successfully rebuild the old pump so we can use this as a spare. She then stretched her legs and walked to the supermarket.
Next item to complete was the washing up from the impromptu dinner party 2 nights ago. We could eat again on board and so had lunch.
In the afternoon we continued to sort all the spare parts and catalogue them. We need to be able to find an impellor much quicker next time to fix pumps and know how many spares we have left.
During this chaos in the saloon Koshka & Yoyo spent the day on deck sunbathing.
At tea time we were invited onboard our neighbours boat. They had left it here a few months ago to return to England and have come back for a few weeks over the New Year. We then had a quiet night in and watched a DVD.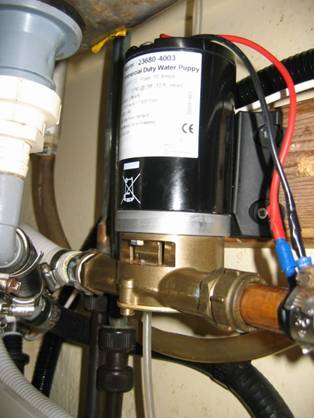 New pump running silently to drain the sink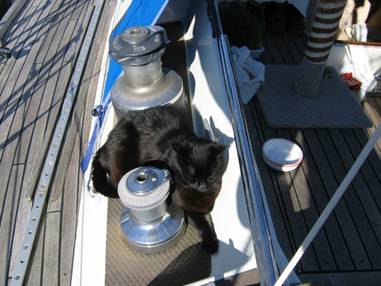 Koshka in search of sun requests the winches are removed
---