Lagos: Silves & Monchique

Wanderingdragon
Stephen & Anne
Wed 30 Jan 2008 20:55
37:06.612N 8:40.477W
Today we headed for the hills …. literally.
We met up with Mum & Dad about 10am then popped down to the boat yard to check up on progress of the anchor locker lid. Surprise surprise it was almost finished – a few seconds work and it was complete. So we took that back to the boat rather than having it rolling around in the boot of the car for the day.
We then went to Silves and up to the castle. It's quite an imposing castle above the town. At first we thought it was closed then we ventured in a bit further and realised that although there was a lot of building work going on it was open. We could only walk around the top of the walls, but that was quite spectacular. The centre of the castle is being renovated "Portuguese style". Inside the castle walls they are building a modern garden and restaurant. They have kept some of the original "features" uncovered. When it is completed it is going to look stunning with lots of water features. It is an interesting concept of obviously modern inside the ancient walls.
After a coffee break outside in the sun (and with another delicious Portuguese custard tart) we headed off to Monchique. As we kept missing photo opportunities and places to visit on the way up the mountain we decided we would stop at them on the way down. We went to the top of the mountain to a place called Foia. We managed to pick up some diversion signs and ended up going the back road to Foia. There wasn't much at Foia apart from a very panoramic view, a tourist shop and a restaurant. Having seen no other cars on our way up to Foia we were surprised to see lots of cars at the top. We then realised there was another road – we took this road down and soon realised this was the main road. Stephen did think it was odd that he was driving in first gear around u bends wondering how on earth coaches came up to the top!
We drove through Monchique itself (it didn't look very inspiring!!) and onto Caldas de Monchique. This is a spa town and was a beautiful little town to wander around. We had a drink (Mum & Dad had a glass of wine, Stephen had Coke and Anne tried the local spring water). We also saw where the spring water was coming out of the ground. We could have saved some money if I had known all Anne wanted was some water! With a few more "photo" stops on the way down, we then headed back to Lagos.
This evening Stephen & Anne have had a night in on the boat to give Koshka and Yoyo a chance to run around a bit. Mum & Dad are fending for themselves.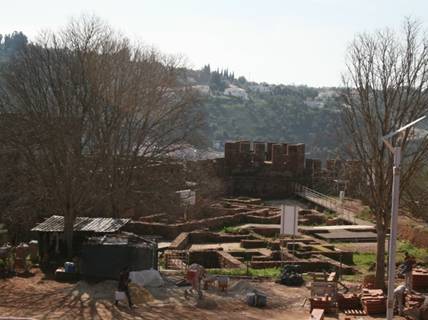 Silves Castle under restoration
One of the many Lemon Tree's & Wind Turbine's that scatter the Portuguese countryside
Monchique and Flowering Mimosa
Caldas de Monchique
Stephen!
Man on Donkey!
---