Syracuse -> Crotone

Wanderingdragon
Stephen & Anne
Fri 7 Jun 2013 12:48
39.04.811N 17.08.249E
We woke up feeling refreshed and ready for the day after a good nights sleep. After a few jobs and an easy morning we were ready to move on. We really didn't want to get stuck in Syracuse for another summer.
The anchor chain came up still relatively clean. After a bit of bobbing up and down the anchor came up – along with a large quantity of mud L Anne managed to remove most of the mud by taking her time to get the anchor onboard and letting it drag in the water, then throwing a bucket of water over it. Once the anchor was stowed we motored past Ria Luna to say goodbye to Tracy, Mike, Josie and Justin.
We set off around midday with the wind on the nose, which is not the most comfortable sail, but the forecast was for the wind and waves to turn and be behind us for the majority of the passage. Fortunately the weather had listened to the forecast and behaved impeccably. Crossing the Golfo di Squillace (bay of squalls), as it name suggests, can be tricky. However we went across in very light winds, having to motor but happy after the horror stories of our friends who crossed last month. We even had a visit from a small pod of dolphins to say hello as they played in our bow waves. Once they had played enough they swam alongside the cockpit for a short time then headed off.
The only tricky bit was playing dodge the ship as they came out of the Messina straights at night with a sea mist making it more tricky to see anything. We were both on watch for this bit.
We arrived in Crotone at 5pm the following day, tired but happy. We found a place to moor against the wall and celebrated with some wine. We slept well that night.
Yoyo was better on this passage but still far from happy. At least she wasn't sick and even ate some tuna.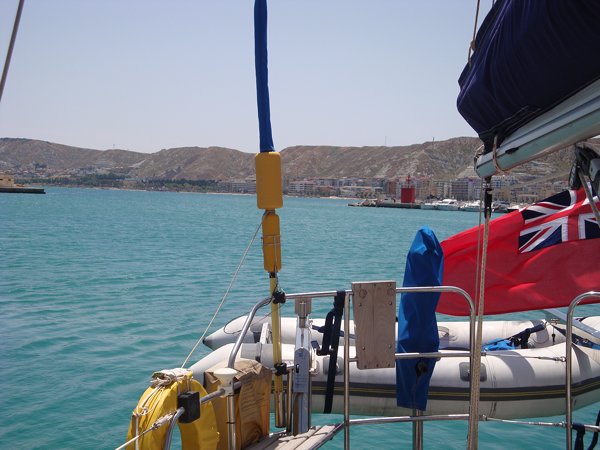 View across the bay to Crotone where we are moored.
---