Marina di Ragusa: The Sicilian Countryside part 4

Wanderingdragon
Stephen & Anne
Tue 12 Mar 2013 14:40
36.46.84N 14.32.74E
The weather over the last few days has been really nice, but checking the forecast for the next week we are due some high winds and rain. With this in mind we decided to head off and enjoy some more of the Sicilian countryside. The last couple of times we went out we went along the coast road. Today we went across country. We had some great views of Etna.
Where ever we drive to in Sicily we see Mount Etna – she has been a little active recently but looked quiet today.
We got a little lost trying to find the Necropolis of Pantalica. We failed to find the entrance we wanted, but by driving a bit further we found one of the other entrances. We were greeted by the warden who only spoke Italian. We listened politely and obviously managed to nod at the right moments as he talked to us in Italian. We still have no idea what he was telling us. Armed with a map we headed off into the park. The Necropolis of Pantalica is a UNESCO world heritage site. The area has around 5,000 tombs cut out of the rocks.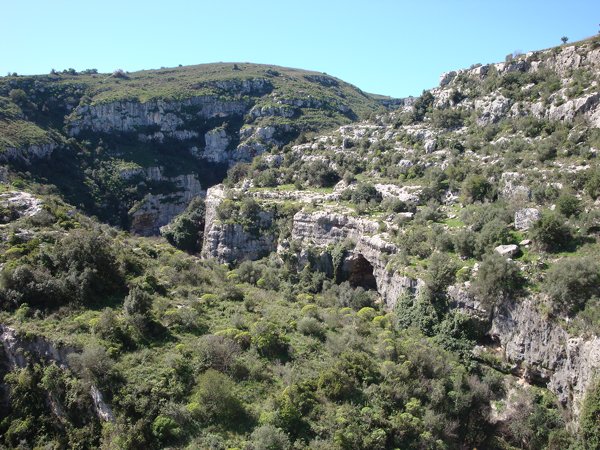 We started walking from on top of the gorge and then descended
A general view of the gorge
Stephen at the bottom of the gorge
Tombs cut out in the hill side
A close up of the tombs
Can you spot the goats ? Hint there are 3 of them!
As is usual for us we did go slightly the wrong way on our walk and ended up walking along a different canyon to the one we wanted to walk along. We still had a lovely days hike and it has given us a reason to try and get back here to do the walk we wanted to do.
---