Syracuse: Land Ahoy!

Wanderingdragon
Stephen & Anne
Fri 20 Jul 2012 13:18
37.03.525N 15.16.961E
After 8 days on-board Wanda we finally managed to get ashore.
On Tuesday the weather was calm, so we launched the dinghy, packed ourselves in around the bags of rubbish we had generated and set off for land. The outboard engine behaved itself and we were soon moored up near the marina. We needed to fill up with petrol for the outboard. We easily found the fuel dock however it wasn't open. The man said it would open in 10 minutes. We went off for a wander to orientate ourselves. We quickly found the launderette and the market. We then went back to the fuel dock, still not open, the man said it would open in 10 minutes and smiled - this is Italy. We headed off into the new town to see if we could find a supermarket. After a while we decided we had gone far enough and turned back. On our way back we met Sandy and Martin who we had met in Marina di Ragusa, they were going to the supermarket so we tagged along. We then headed back to the dinghy and found the fuel dock (finally) open. We filled up with petrol and headed back to Wanda.
We decided that the following day we should do some sightseeing, so we went back into town. We found a new spot to leave the dinghy and headed into the old town. First stop was a café for a coffee – fortified we set off.
We came across the fountain in the centre of Piazza Archimedes.
Archimedes lived in Syracuse and apparently had his "eureka" bath moment here too. We then headed to the Cathedral. The cathedral was built around the Greek temple of Athena.
Cathedral backlit with sunlight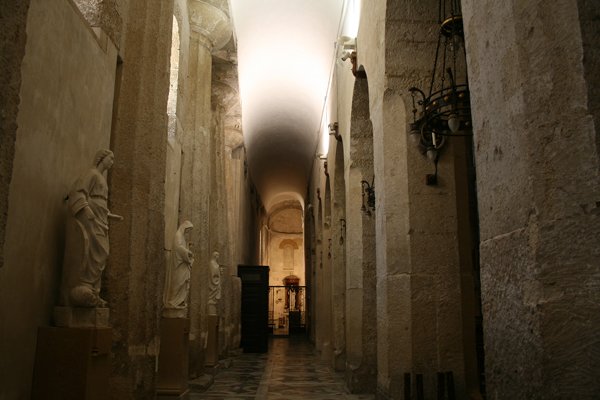 The 5th century BC Doric columns are still visible inside the Cathedral.
From the cathedral we headed to the water front so we could check Wanda was still OK
Wanda is out there somewhere ….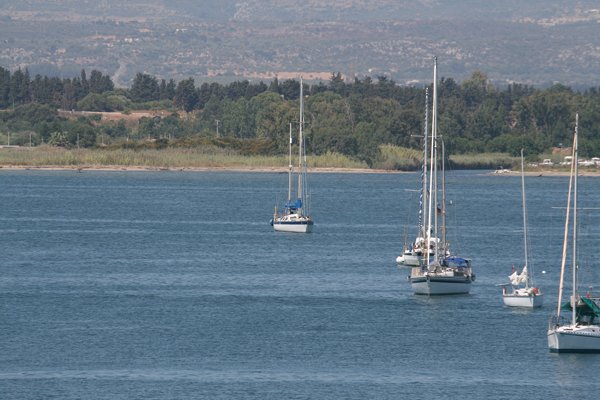 .. there she is – the one at the back on the left.
We then went to the market to stock up on a few supplies. Our friends on Koa had told us about the shop that sold smoked mozzarella cheese so we had to go in search of it. The first shop we stopped at kept giving us bits to try, sundried tomatoes & caponata on bread and mozzarella balls, but they had no smoked mozzarella. We bought some sundried tomatoes, olive bread and mozzarella balls. We then went next door and found the smoked mozzarella, it was delicious  We then headed back to Wanda for afternoon siesta, well we'd managed to have lunch while shopping.
---