Denia

Wanderingdragon
Stephen & Anne
Sat 7 Jun 2008 23:16
38.50.429N 0.07.131E
Koshka here. Once again Mum & Dad have failed to write the blog – so I have had to set paw to keyboard once again. I have been sulking since we got to Denia. I really liked Moraira. Exploring the sea wall was the best fun I've had in ages. I'm not so keen on Denia, Yoyo and I can't get off the boat and explore.
Anyway on with our adventure:
Friday – Mum and Dad spent the morning cutting out insulation for the windows. Yoyo and I weren't sure why they were doing this. It all became clear about 4pm when they left with Jude and Becky and they didn't return until Saturday morning. We had been left "Home alone" overnight.- our first time alone afloat. The insulation was to help cut out the heat from the sun when the boat is closed up. We did get plenty of fresh air as they left loads of small windows open for us.
We quite enjoyed our night on our own. The marina did get a bit noisier with all the Spaniards turning up for the weekend (it's another Festival this weekend – Monday is a bank holiday – so there are loads of people around). We also played our usual trick of eating all the food except two little bits so they think we are hungry!
Mum and Dad had a great time at Tom, Jude & Becky's. They played in the pool, had a few drinks, some delicious food and a lovely evening chatting.
Saturday – Mum and Dad returned from their first night sleeping on dry land in 9 months. They complained to us the bed didn't "rock". The opened up the boat and gave us the chance to run around a bit.
Then they went out food shopping at the market. The stall with the best veg also had the longest queue – they even had a ticket operation for all the people. It tok 30 minutes to get served but they did manage to get some lovely food. After lunch they had a lazy afternoon. They really are becoming more like Yoyo & I all the time. I have taught them how to sleep in the daytime. Though I say so myself I think I've done a very good job.
We were all disturbed a bit by the rowing race's that were happening in the harbour in the afternoon, but it wasn't too noisy.
In the evening we had a quiet night in watching a DVD.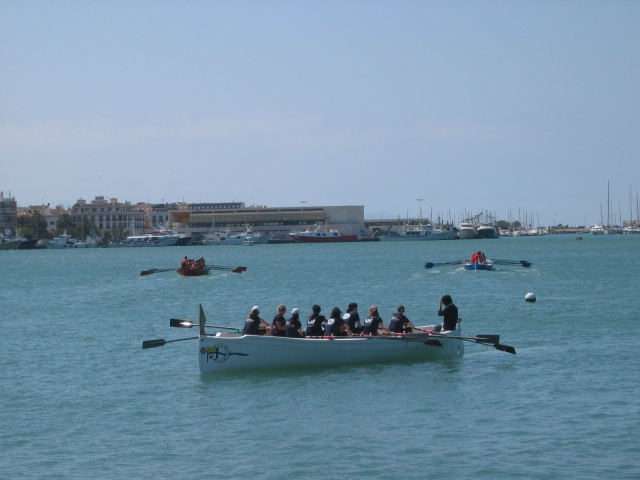 Saturday was the women team rowing races around the bay
---