Marina di Ragusa: Doesn't Time Fly!!

Wanderingdragon
Stephen & Anne
Sat 5 May 2012 14:44
36.46.84N 14.32.74E
Doesn't time fly!!
We can't believe it's now May – the winter appears to be over and we haven't blogged since September … sorry.
So what have we been up to all winter…
Looking back not a lot really. There's been the usual stuff shopping, cleaning and laundry. A bit of sight-seeing and lots of socialising. We lost a lot of weight, well we didn't but Wanda did when we converted from books to kindles. We don't think we were the only ones to do this as the marina now has a very well stocked book swap, it didn't have one at all when we arrived!!
We got a new "Sailrite" sewing machine – it is one designed for canvas work. Anne's domestic sewing machine had been doing well, but was starting to struggle with the thick material.
Wanda became the star of a wedding video!! One Saturday we were approached by a wedding photographer and asked if he could take pictures of the wedding couple on our boat. We felt we couldn't say no. So the happy couple, the photographer and the videographer climbed aboard Wanda. The French people behind us shouted "Titanic" and so the couple were then herded to the bow to re-create the iconic film pose. We're not sure the photo's will be the most picturesque – but at least they will be unusual.
The filming of Titanic on-board Wanda!!
There are quite a few American boats here in the marina, so at the end of November we joined in a Thanks Giving Dinner on Rendezvous Cay.
We found the perfect cat sitters, Jenny and Robert (Jenny is a vet, so every time the cats got a stroke they also had a quick examination too!!) Having such great cat sitters so near we went on a trip to California to spend Christmas with Anne's brother and his family. First we had a week in Las Vegas to recover from jet lag then went to San Jose for a week over Christmas. We had a fantastic time, a fabulous Christmas dinner and a family outing to a San Jose Sharks Ice Hockey game (unfortunately the Sharks lost L)
Christmas Dinner
From right to left: Lucy (niece), Anne, Stephen, Jon (nephew), Jesi (Jon's fiancée) at the Sharks game
We had Stephens parents out to visit in March, so went on a few day trips.
The "Bikini Girls" mosaic at Villa Romana del Casale
We had lunch with Stephen's Mum & Dad in Modica, obviously we had to visit the Chocolate shop to sample the various flavours of Modica chocolate and the incredibly rich chocolate liqueur (we think it's just molten chocolate with alcohol added) After lunch we had some time to admire the Baroque architecture.
"The" chocolate shop in Modica
Underside of a balcony in Modica
Anne's niece Lucy visited for Easter. We actually managed to empty the front cabin so Lucy had somewhere to sleep while she was here
Lucy in the empty front cabin – luckily it only rained on the last night as we have a bit of a leak!!
Lucy wanted to see mount Etna – so off we went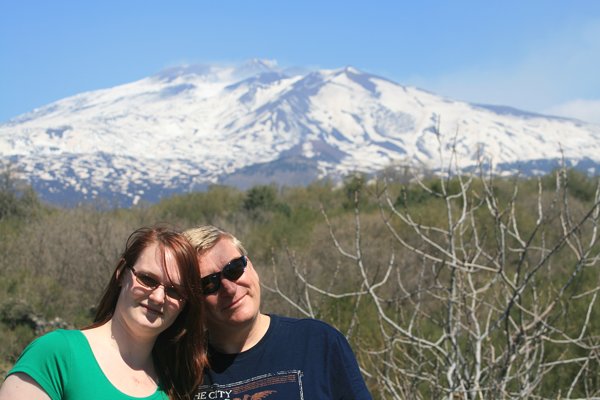 Beautiful warm spring day with Etna in the background …
… at the top of the cable car on Etna in snow and howling wind – a bit chilly. Oh and it is smoke in the background not clouds
The day we went to Etna she was gently puffing away, less than 48 hours after our visit Etna had a small eruption! Luckily Lucy's flight home was not affected (although we would have happily had her stay longer)
We are currently working on spring cleaning Wanda and trying to fix the leaks!
On a sad note we had to put Koshka to sleep at the end of March. He had a happy life and we all miss him terribly
Koshka – doing what he did best – sleeping
---