Marina di Ragusa: Blogs are a bit like buses ...

Wanderingdragon
Stephen & Anne
Sat 2 Nov 2013 13:24
36.46.832N 14.32.744E
I know – there has been no blog for ages – then you get two together – just like buses!!
Life here in Marina di Ragusa has been fairly hectic – well at least on the social side of things. There have been lots of boats arriving for the winter and lots of new people to meet and old friends to catch up with.
We decided we needed a new mode of transport. Our bikes are great for getting around Marina di Ragusa but are too big to fit on the boat. A few people have scooters so we decided to re-live our childhood and buy a scooter each. These are not the ones with motors – they are the ones you push along manually.
Anne on her new scooter.
We had started exercising by walking along the sea front early each morning, we kept meeting the families from the marina taking their children to the local school- so we decided to join them. As the kids have scooters (and now so do the adults) we formed a scooter group to drop the kids off at school then get a bit more exercise scooting along the sea front as far as the pavement goes , then returning to the marina.
Waking up the rest of the marina on the school run at 7:30am J
Boat jobs have been progressing very slowly – I'm sure we'll get back to them again soon.
Time has just been whizzing by – and all of a sudden it's halloween!! The council put up their halloween decorations
Let us know what you think this sign means?
The liveaboards in the marina decided to get together for a halloween party. Before the party got underway the kids went around Trick or Treating. For most of them it was the first time they had done this and they were thrilled with the amount of sweets they collected
Trick or Treat
For food at the party we took along our "Bogey Risotto with eyeballs" (It was really Pesto Risotto with Mozzarella balls and olives). There were also Gravestone Triamasu's, and a Barbequed beer Chicken.
Bogey Risotto with Eyeballs
Barbequed Beer Chicken and the Gravestone Tiramisu in the background.
We were amazed at the effort people had put into their fancy dress costumes – we must try harder next time.
The apple bobbing didn't go down quite as well as hoped. None of the kids wanted a go. When we tried to persuade them they wanted to know what they got if they got hold of an apple – and were very un-impressed that they would just get an apple. Stephen decided to show them how it was done – but cheated a little…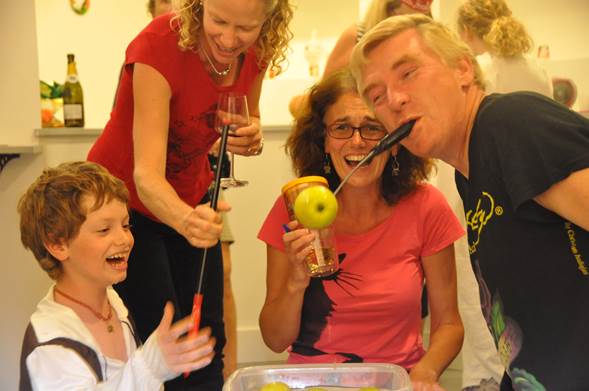 Stephen showing the kids how to bob for apples with a knife...what could go wrong J
---