Marina di Ragusa: Project Central

Wanderingdragon
Stephen & Anne
Sun 30 Sep 2012 14:59
36.46.84N 14.32.74E
On Monday we started varnishing the ceiling supports (strips of wood) and removed more caulking from the toe rail on the deck. It was still very hot making working difficult in the afternoons. In the evening we were invited over to the Maltese boat for dinner. As we were last served French champagne we took along our very best bottle of white wine. However he had also invited along a local Sicilian wine maker who bought his extremely nice wines along. The evening started with champagne, then our wine (we were so happy it was not a screw cap!), followed by the local Sicilian red wine. We are not sure what price it sells for but looking at the bottle and how it tasted it was far more than we normally pay for wine.
Tuesday was a slow day – maybe last nights drinks were having an effect? We did manage to finish varnishing of the ceiling supports and put the stairs back together – we were so happy and so was Yoyo! We also installed lights in the watermaker cupboard under the stairs.
Wednesday was amazon delivery day – we have discovered Amazon ship groceries for free to Italy so we can now buy all those hard to find items (such as low salt bouillon – a vegetable stock). Of course amazon ship things in lots of parcels which meant we had a huge pile of boxes delivered for us. The marina are very good but I'm not sure we can do this every week. We also did some real work – prepped the deck for recaulkiing and refitted all the water maker parts in the cupboard under the stairs.
Now we have to confess by Thursday lunchtime we had faded and stopped work. Clearly we can't work 5 days a week, every week! The good news was we did manage to recaulk the toe rail today.
On Friday we replaced the ceiling in the bedroom (we took it down to fix the hatch). The boat is now back to normal again so we also cleaned the boat. We had our usual Friday night drinks at happy hour and when we returned we discovered Alan and Jo (JALANO) had returned – they had sailed back from Greece taking 3 days non stop to do it. Naturally we invited them onboard for another drink.
Saturday was deck cleaning day – we could not clean it while we were re caulking so it desperately needed doing. In the evening we had with Tracy & Steve (AT LAST), Nee & Chrissy (FINALMENTE) over for drinks and nibbles – Anne made some tuna dip and cheese choux pastry snacks. Tracy has decided to call our boat "Project Central" – I think we are working too hard!
On Sunday we had an easy day – we did the washing in the morning and went to the first of this years pot luck dinners on the main pontoon in the evening.
Next week we need to slow down.
The finished steps all varnished. Now we need to replace the tread on the steps to make it look it all perfect!
Yoyo loved our tuna dip we did on Saturday night!
Anne emptied a cupboard to sort it out – Yoyo claimed it as hers J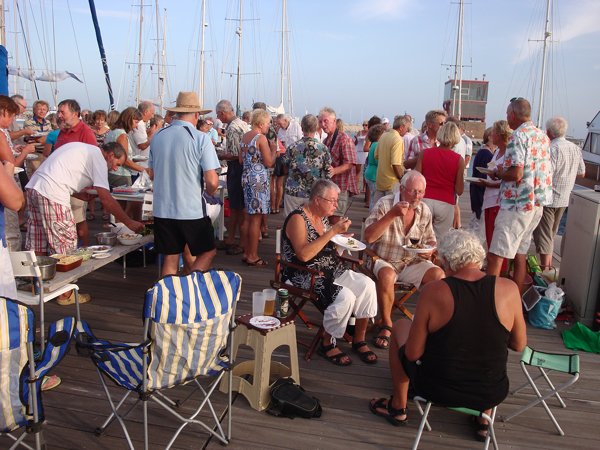 The pot luck lunch on Sunday – everyone bought along a dish and the quality was very good. We
produced savoury muffins (onion & rosemary and cheese & sage). They went quickly!
---