Cagliari: Oristano Sartiglia Festival

Wanderingdragon
Stephen & Anne
Sun 22 Feb 2009 23:45
39.12.059N 9.07.504E
On Sunday we went to the Oristano Sartiglia (Star Joust) festival held annually in Oristano. This is a jousting contest where the contestants spear stars on horseback with their lances. It is not known exactly when the tradition started, but probably in 16th century. The locals believe that the Sartiglia has been run each year since its origins, regardless of weather conditions, in war or peace.
We left Cagliari by train to Oristano. Tickets are priced by the Km (we bought a 100km ticket for £10 return). The train was diesel although we did see the steam train running as well.
The festival starts with a procession leading the Su Componidori (the head of the joust) into the village hall.
The procession had buglers…
…drummers…
..and finally a collection of young girls carrying clothes to dress the Su Componidori.
They also carried sweets and wine to feed the Su Componidori.
They all wear the traditional costume of Oristano.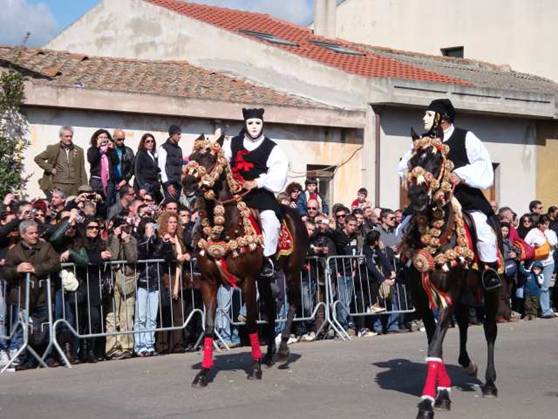 The two deputies of the Su Componidori wait outside while he is dressed and then mounts his horse in the village hall.
We waited about an hour for the ceremony to start and it lasted about an hour.
The local officials tried to make us (Stephen, Anne & Karen from Pyxis) feel very welcome (being the only non-Italians there) and brought out some red wine for us to drink.
We also chatted to people in the crowd as we waited.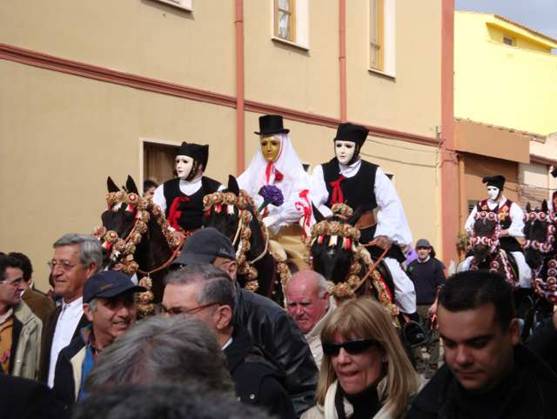 The Su Componidori (centre) is dressed on a platform in the village hall and is not allowed to touch the ground until the "undressing ceremony" late in the evening.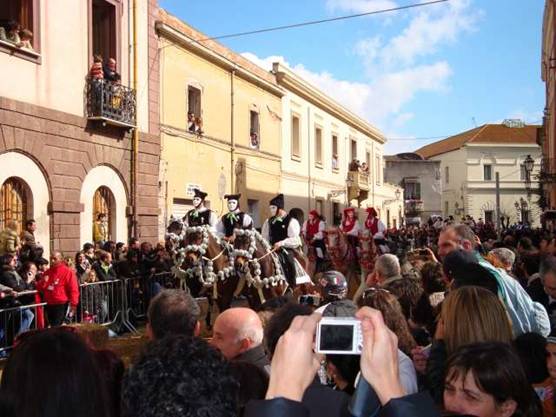 The procession then began through the town.
All the riders wore masks and elaborate costumes.
The horses were also decorated in colour co-ordinated rosettes.
In total there were 120 horses & riders in the parade.
After the procession the jousting began.
The riders fast gallop one at a time along the high street (it is covered in sand) and try to spear a tiny
silver star suspended across the road. You can just see it to the right of the lamp post in line with the top of the barrier.
Riders win a real silver star if they spear it and a gold one if they spear it twice.
This was a seriously popular event and grandstands were built for the crowd. It was still very busy on all the streets.
The building in the background is the cathedral.
---